iOS 4.1 iPhone, iPod touch Firmware Update Features
Apple releases iOS 4.1 for iPhone and iPod touch. So, what are the major features for the newest Apple mobile device firmware?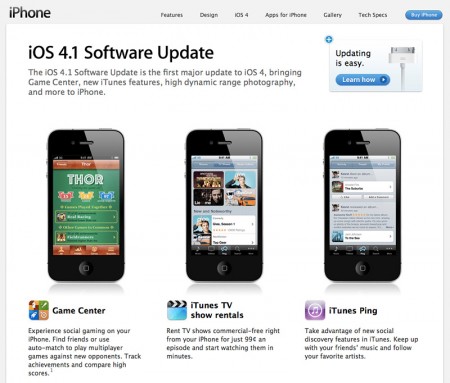 Game Center social gaming / multiplayer auto-match
iTunes TV show rentals
iTunes Ping, social music discovery
HDR photography, combines multiple exposures to improve photos of high contrast scenes
HD video uploads, 720P video upload to YouTube and Mobile Me (from iPhone 4 and iPod touch 4G)
Improved performance on iPhone 3G
Not all features are available on all devices though. There is no Game Center on iPhone 3G for example (that's the only major feature not on 2+ year old iPhone 3G).
iOS 4.1 update also contains existing iOS 4 features:
Multitasking (that doesn't drain battery or require manual program quitting)
Folders
Even better Mail
iBooks eBook reader
Create play lists from iPod
5x digital zoom
Tap to focus video
Faces and Places in PHotos
Home screen wallpaper
Spell checking
Wireless keyboard support
If you got a jailbreaked / unlocked [] iPhone or iPod touch, then you should wait for the next jailbreak solution to be released first.
To update your modern iOS device to iOS 4.1, get iTunes 10 (or later) and update from it. iPad users have to wait awhile longer for iOS 4.2 update.
via Apple

Related Posts