How to Add Color Icons to iTunes 10 Sidebar
Quick 10-second iTunes 10 gray to colorful icons hack.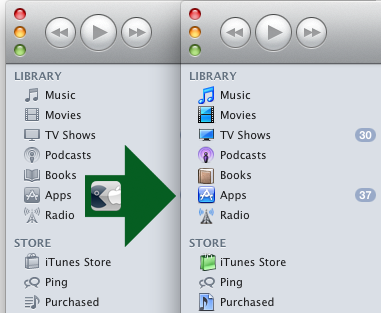 Fight the drab grey icon sidebar! Apple iTunes 10 hacked to display color icons!
iTunes 10 Sidebar Gray to Color
Some people might like the new gray iTunes 10, but others like the classic iTunes 9.2.1 colored icons better. So, what to do if you want to add colors back to iTunes 10?
Essentially, you are replacing a file inside of Mac OS X iTunes with a modded color resource file. Instructions after the disclaimer.
BACKUP BACKUP BACKUP!
OP has tested this to work on a MBP and iMac on Snow Leopard, but your mileage may vary.
This hack comes with No Guarantees. Thus, you should backup your iTunes Library files before attempting this iTunes 10 hack. Use your Apple Time Machine in the however unlikely case that this color icon mod will eat your media library, apps, or your homework. Translation: we are not responsible if somehow this simple mod messes up anything on your end.
iTunes 10.2.2 Compatible Mod
Updated, 2011 April: Better, updated version by Shaun R from Melbourne, Australia
Small and large color side bar icons!
Horizontal Traffic lights
iTunes 10 icon changed with iTunes 9 icon
Old media controls
Old media usage meter
and more
Here are the iTunes 10 Color Sidebar mod downloads, three different options:
Everything (color sidebars, traffic lights, icon changes) iTunes 10.3.1 support as of June 22, 2011
Color Sidebar (changes nothing else but side bar) iTunes 10.2.2 only
iTunes 9 Emulator (Looks like iTunes 9) iTunes 10.2.2 only
If those links don't work go for the newest links at this forum thread.
You are reading '
iTunes 10 Tips
' read more from this series:
How to Add Color Icons to iTunes 10 Sidebar
---
OLD, OUTDATED INFO below for 10.0.0, 10.0.1.
How to Change iTunes 10 Icon Colors (from Gray)
1. Quit iTunes
2. Command+click iTunes Application icon to show it in Finder
3. Download the iTunes.rsrc file and follow two more steps
Download itunes10colors
The iTunes 10 color sidebar hack, itunes10colors.zip is 11.7MB
works on Intel Mac, Snow Leopard, Leopard (might work on PPC on Leopard?)
iTunes version 10.0.0, 10.0.1 with small icons
Download it from OP Mirror
Or from its enigmatic creator's website: Drien (note his server can't handle the bandwidth load, so feel free to bookmark ObamaPacman.com and download it from our mirror above)
Compatibility: iTunes 10, 10.0.1, and 10.1
Works with iTunes 10.0, 10.0.1, and 10.1 Update:
Removes the Ping Drop down
Mac OS X auto-update still detects iTunes, in contrary to comment 22
Known issue:
- Firewall problems due to reasons explained in comment 22.
- Minor playlist graphics issue under iTunes 10.1 (and 10.6.5?)
Verdict? It's an awesome addition to iTunes 10. Love it. Unfortunately Windows iTunes 10 doesn't seem to have a iTunes.rsrc file that OP can find, but someone might find a way.
PS. Steve Jobs, we're sorry for defiling iTunes 10 (or not). Please don't make us add double rainbow to iTunes! Oh, and check out the white iPhone 4 rainbow skin "mod" that you can order.
via mr

Related Posts