Greenpois0n iOS 4.1 Unthethered Jailbreak Download Released, Real or Fake?
Looking for iPhone and iPod touch iOS 4.1 jailbreak? What's this new Greenpois0n / greenpoison web site that promises untethered jailbreak? Is it legit?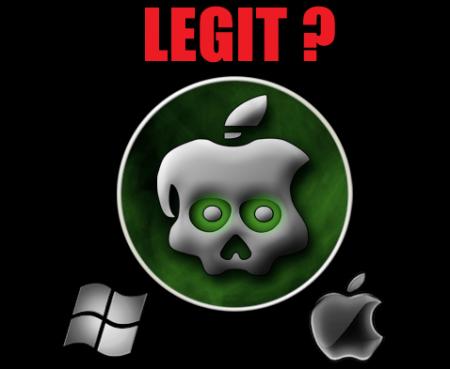 Download iPhone, iPod touch 4.1 Firmware Jailbreak
Yes folks, before we get any more tips about where you can download Greenpois0n iOS 4.1 firmware untethered-jailbreak for iPhone and iPod touch, here's the real deal.
Beware of Fake Greenpois0n Download Websites
At this time, web sites promising iOS 4.1 jailbreak download are all fakes / scams (similar to earlier iPhone / iOS unlock scams). The fake sites use the greenp0ison name, but uses .info, .tk, or other domain name variations instead of .com.
Instead of asking money for free software (that's not even released yet), these fake Greenpois0n sites are phishing sites made to steal personal information, including Facebook login, phone numbers, etc.
How? When you click "Download" on these bogus sites, it'll ask for your personal information, then steal it without giving you the jailbreak (because it doesn't exist yet).
So, if you had submitted any password or logged in to that web site, change that password now!
iOS 4.1 sHAtter Exploit Jailbreak?
Download Greenpois0n sHAtter iOS 4.1 jailbreak? Here's an example fake site that's more like bull SHAT:
"Welcome to the new launch of the long awaited Greenp0ison jailbreak! We have worked countless hours to release the cross platform jailbreak exploit, with the help of the sHAtter exploit. This is an untethered jailbreak that is compatible with all iPhones, iPods, and iPads running the new firmware update. (4.1 iOS)."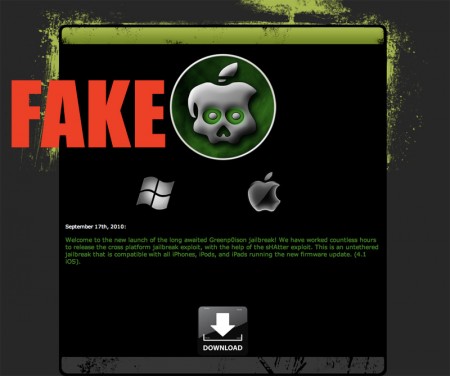 FYI, legit jailbreak sites do not ask you for personal information or payment. We'll let you know in our iPhone guides section when the official site greenpois0n.com (currently blank except for their logo) is updated and vouched by the real jailbreakers.
via modmyi

Related Posts