EPIC ROBOT FILM: Enthiran a Mashup of Matrix, iRobot, Terminator, Indian Dancing + Mac Cameo
The movie to end all action movies? This fricken epic film has it all, super hero, killer robots, guns, explosions, hot girl, martial arts, mad scientist, Bollywood Indian dancing, and a love story.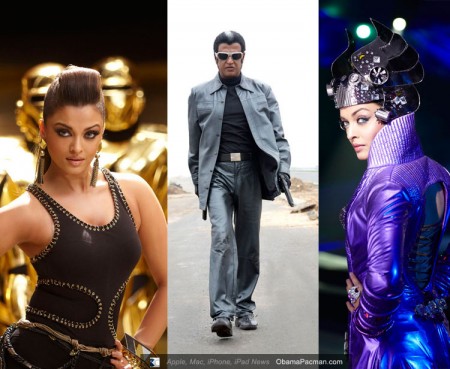 This action packed movie is a fusion of technology and Bollywood dancing, with fight sequences and epic song and dance numbers filmed around the world. Created in Kollywood, Tamil version of Bollywood, this is the coolest and costliest Indian film ever made. Enthiran is an inspired mashup of iRobot, Matrix, Terminator, Iron Man, Star Trek, and Kung Fu Hustle.
Update: Despite the large budget, the script and the special effects are pretty lame by US standards. =(
Epic Robot Bollywood Musical: Endhiran Trailer
Forget Google Android as killer robot, a mad scientist with some Apple iMac help creates a the next generation ultimate fighting robot:
Is it me, or does the leading robot looks like Matrix hacker Morpheus with the voice of Arnold from Terminator in some scenes?
Impressive Movie Production Crew / Roster

Shot over 2 years, an impressive roster worked on this action packed robot movie:
Action choreographer of Matrix and Kill Bill sequels: stunt coordinator Yuen Woo Ping
Costume designer of Men in Black: Mary E. Vogt
Animatronics technology from maker of Jurassic Park, Predator, Terminator, Iron Man, and Avatar: Stanwinston Studio
Music by Oscar winning composer of Slumdog Millionaire: A. R. Rahman
The lead actress, Aishwarya Rai, is India's version of Angelina Jolie
Directed by S. Shankar, known for making films with record-breaking budgets
Plot, Enthiran Robot Film
Chitti is an andro-humanoid robot: "A human who is not born but is created. He can dance, sing, fight, is water and fire resistant. He can do all that a human can and more. He feeds on electricity. He takes instructions literally."
Like Arnold Schwarzenegger in Terminator or Data in Star Trek, Chitti a robot who cannot understand human emotions. But with tweaks from his creator, he might be transformed to feel.
Say hello to my little friend?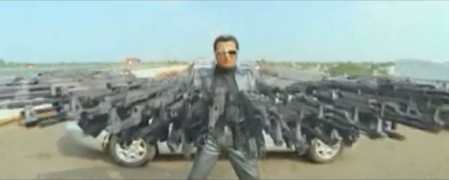 World Wide Release Date of Enthiran
So when will Enthiran (some spell Endhiran) the epic Bollywood movie arrive in theaters? The robot film is scheduled for an India release in Tamil, Telugu, and Hindi in late September 2010. (Trailer lists September 24?).
Its worldwide release is scheduled on October 1, 2010. Here's a Washington DC / Tysons Corner NoVA area theater showing starting September 30:

Don't let the NR rating throw you off. It should be PG-13, it's just not rated for the states. It's unclear how much of the film is in English. But the U.S. trailer has some English dubbed in.
Do you think they'll have Bollywood dancing in Matrix Bullet Time?
Enthiran Theater Showings: India, US, Malaysia, & Netherlands
One of the cinemas carrying this epic robot movie is Big Cinemas, with 516 screens across India, US, Malaysia and Netherlands. US locations at California, Florida, Georgia, Illinois, Kansas, Kentucky, Michigan, New Jersey, New York, North Carolina, Ohio, Tennessee, Virginia (DC / NoVA).
[Official film site: robotthefilm] Flash home page
Tip thanks to Maria, who can dance into my heart.

Related Posts