Mac User Bakes Double Rainbow Augmented Reality Cake
OMG, double rainbow augmented reality cake… is a lie? Made with a dash of c++, Mac, and AR marker, recorded with iPhone.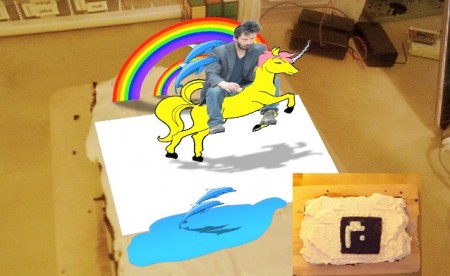 What happens if you are a Mac user tasked to make a decorative cake? For Justin Blinder (not Bieber), a freelance interactive designer and developer getting a BFA in Design and Technology, the answer is Augmented Reality.
Video: Augmented Reality Cake
Justin's AR cake short video, you might want to lower / mute your volume:
Ingredients: Augmented Reality Cake
This cake is a lie. Or is it?
The ingredients of Justin Blinder's augmented reality cake includes: Cake mix, Mac, OpenFrameworks, ofxARToolkitPlus, Sad Keanu Reeves, Unicorn, double rainbow all the way, Dolphins, and iPhone camcorder.
He baked the cake and put the augmented reality marker as icing on top. Then proceeded with the AR coding: "The coding was fairly basic, and after a little time orienting things in 3d space, the cake was finished."
Sound easy. Easy as pie cake.
What do you think would happen if we get Justin Blinder to work at the It's a Frap! Geeky Cafe?

Related Posts