OMG! Double Google Voice Apps Went All the Way! App Store Approved!
Apple just approved two Google Voice apps. Now on the App Store on iTunes.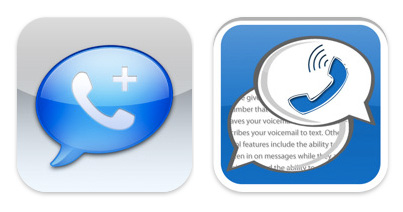 Google Voice iPhone App
These Google Voice apps are designed for iPhone, but also works on iPod touch and iPad (at x2 mode) with WiFi or 3G. They are on sale for $2.99 each:
GV Mobile + [itunes link] highly rated app by Sean Kovacs
GV Connect [itunes link] new contender
We seriously thought Sean Kovacs' GV Mobile + begs for rejection, so congrats on the approval! The app must have been approved by the guy that approves everything.
So what is Google Voice? It's a free second phone line / phone number that Google hopes will be your telephone switchboard (so Google can analyze it for all your secrets):
Make phone calls*
Call screening
Visual voice mail
Transcribe voice mail (optional)
Free SMS (take them offline too)
*Still costs you mobile minutes, although you can use Skype in (paid service) to receive phone calls, even if you are on an iPod touch or iPad.
Google Voice apps were purged from the great App Store purge of 2009. But approved again due to Apple's recent relaxing of App Store approval rules.
Double Google Voice Apps far out or too much? If you use both apps on an iPhone, it's almost like a triple phone! Someone make a double rainbow music video please!

Related Posts