Best Buy CEO: iPad Killed 50% Laptop PC Sales
Best Buy, the nation's largest electronics retailer by revenue, has bad news for laptop PC makers and great news for Apple iPad, Wall Street Journal reports.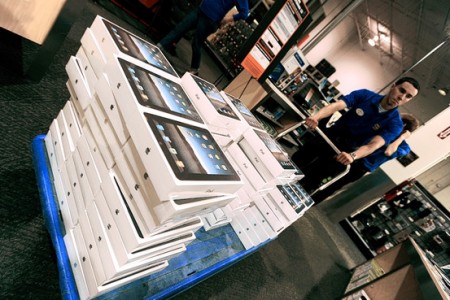 iPad Cannibalized Laptop PC Sales at Best Buy
Best Buy CEO Brian Dunn: "internal estimates showed that the iPad had cannibalized sales from laptop PCs by as much as 50%."
While reducing the number of laptop / notebook PC sales, Best Buy describes that there is a rise in "portable computer totals, buoyed by the iPad."
iPad: Limited Stock
Keep in mind that for much of the time since the iPad launch, even Apple Stores had limited supply. iPad orders were on backorder by weeks from Apple Store, and thus stock of the Apple tablet at Best Buy is likely to be limited. What's even more impressive is that the Apple tablet was not offered at all BB stores, and many Best Buy stores sold out of iPad at times.
Thus, even with the limited iPad supplies (at limited BB stores), it was a success at Best Buy. That's probably why Best Buy will expand iPad distribution to all of its 1,093 U.S. stores on Sept. 26.
iPad Killer?
Meanwhile, just like iPod killers and iPhone wannabes, the tablet knockoffs struggled to copy Apple.
Neither hp'S LATE Slate and other iPad knockoffs had put together a package with a user experience with touch-optimized apps that's remotely close to that of Apple's. Heck, many don't even have their copycat tablet on the market yet.
Note to knockoff makers, your Dilbert committee needs to work harder.
via wsj

Related Posts