Apple Posts iPad iOS 4.2 Update Features, Release Date
Apple describes some of the 100+ new features in iOS 4.2 for iPad, iPhone, and iPod touch.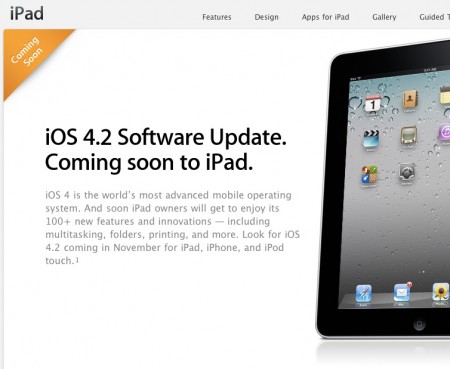 iOS 4.2 software update is a release to bring the same software features to all iOS devices, including the iPad, iPhone, and iPod touch.
Multitasking
Folders
Wireless printing
AirPlay streaming of videos, music, photos from iPad to new Apple TV. Also streams music to AirPlay speakers or receivers including AirPort Express.
Game Center with social gaming, achievements, multiplayer match with friends or with new opponents
Even better Mail, unified inbox, message in threads
Find text on web pages
Enhanced enterprise support
Accessibility enhancements: iOS is already considered by many as the best accessible mobile devices already, now with braille support in more than 25 languages to over 30 displays
Keyboard and dictionary enhancements
Don't get too excited yet. Although it's described as "coming soon," the November 2010 iOS 4.2 software release date is still 8 to 12 weeks away.
via apple

Related Posts