Awesome: Apple Movie Trailer Site Adds Theater Showtimes & Ticket Purchases
Apple updates its HD movie trailer site to add a slick HTML5 listing of theaters and show times in your area.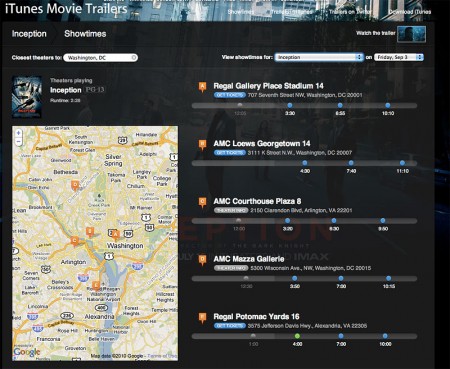 Apple Adds "Showtimes" Movie Theater Listing
Longtime Mac users might know that Apple has a semi-hidden HD movie trailers site at trailers.apple.com. Now Apple made it even better with the new "Showtimes" section for film lovers.
There is no longer a need to visit clunky & fugly movie listing sites when Apple has a stylish version that just works.
Apple Movie Showtimes Site in Action
How Apple iTunes Movie Trailers site works:
1. Let browser locate you (or enter a location)
2. See movie theaters near you (or flip through more theaters)
3. See what movies are playing in the theater (and nearby theaters) and show times
Optional:
4. Click on a blue or green dot to buy tickets via fandango. Easy.
Apple movie Showtimes works great on Safari, Firefox, and Chrome on the Mac. Also works on iPad, and more scrolling on iPhone & iPod touch.
HTML5 Animation
Apple showtimes section has spiffy HTML5 animation, in this example for the hit movie Inception, without the loop: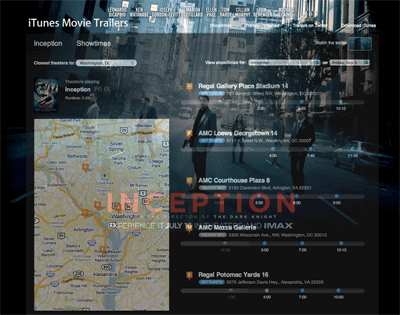 (Note, don't go to Inception explained Mac OS X style if you haven't seen it yet!)
[Apple Showtimes via macrumors]
Side note: You can also watch trailers via Mac OS X built in Front Row media center software. (Command+Esc if you didn't turn it off in System Preferences keyboard shortcuts, or use your optional Apple remote)

Related Posts