Apple Mac OS X Turns 10! + Steve Jobs 2000 Keynote Video
Mac OS X, pronounced mak oh es ten, turned ten today! Travel back in time to see Steve Jobs introducing Mac OS X for the first time ever, at Macworld San Francisco 2000.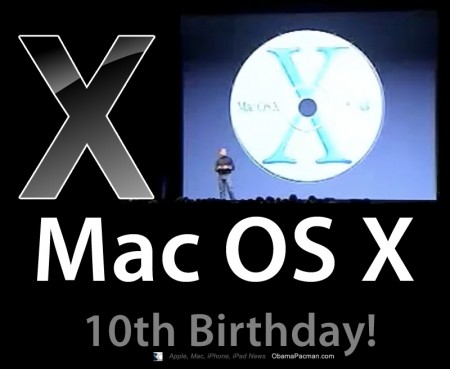 Mac OS X 10th Birthday!
Steve Jobs should be happy. The ten year birthday of Mac OS X from its first public beta comes with great news. This is the same year which sees market value of Apple surpassing the copycat Microsoft. And while companies are still trying to copy the iPod and iPhone, Apple releases the iPad.
Apple CEO Steve Jobs Introduces Mac OS X at MacWorld 2000
30 minute, three part video. Travel back in time to see Steve Jobs introduces the UNIX based (now UNIX-certified) Mac OS X:
Since then Apple, with Mac OS X developers, created the largest mobile App store, built with Mac OS X development tools xCode.
Back to the Future
In contrast, Microsoft Windows zombies (aka PCs-might-seem-slightly-cheaper drones) take note.
It took Microsoft almost 2 years to copy Mac OS X with Windows XP. It took Microsoft almost a decade of copying Mac OS X to result in Windows 7 to almost-catch-up to the Apple operating system.
While Apple is working on the next new thing and improvements to current products, there is no guarantee with Redmond. Microsoft could discontinue a brand new weeks-old product abruptly (Windows Phone Kin), or Redmond could release another price-gouging $400 awful Windows Vista at any time.
Thus, this is a great time to get a Mac: Why your next PC should be a Mac.

Related Posts