Apple iPad in Enterprise: 4 Case Studies
Case studies of iPad in action in the enterprise sector? Apple has it.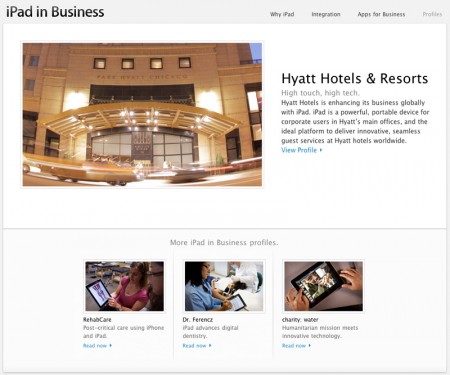 iPad in Business: Case Studies + Favorite Apps
From hospitality, medical, to non-profit sector, these case studies show all kinds of ways to use Apple iPad.
Apple's new iPad in Business Profiles section reveals how the Apple tablet works for staff, customers, executives, and IT in the enterprise setting, and some of their favorite apps.
Summary below. Go to the Apple page for the full case studies / business profiles; Hyatt and RehabCare case studies each includes a video there.
iPad in Hospitality Industry: Hyatt Hotels & Resorts
For Hyatt, iPad is the ideal platform that delivers seamless guest services. The Apple tablet also serves as a powerful, portable business tool for executives. The iPad deployments also meets security requirements.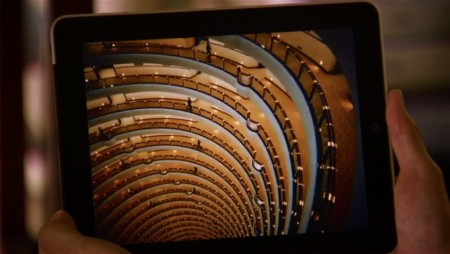 "It's fast, it's secure, and it's easy to use. iPad has integrated Cisco IPsec, so we can securely authenticate users into the environment." John Prusnick, Director of IT Innovation & Strategy at Hyatt Hotels & Resorts describes.
iPad in Medical Industry: RehabCare
RehabCare operates in 1,200+ hospitals in 43 states.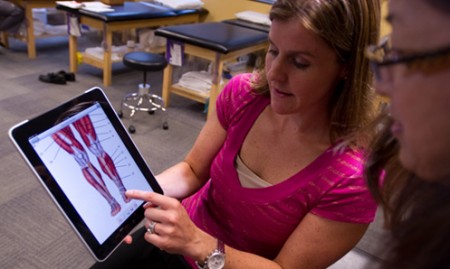 iPhone and iPad help streamline patient pre-admission screening, which used to be a time-consuming process involving multiple paper forms and questionnaires. Their custom iOS app also help makes documentation of treatments more accurate and increases compliance.
"iPhone [and iPad] instantly met or exceeded our most fundamental needs. It reduces spending. It reduces staff requirements. It reduces our support workload significantly." Dick Escue, CIO, RehabCare Group describes.
Favorite Apps of RehabCare:
iPad in Medical Industry: Dr. Ferencz
Example of a small business with 14 employees. Dr. Jonathan Ferencz is a prosthodontics practice located in midtown Manhattan, NYC: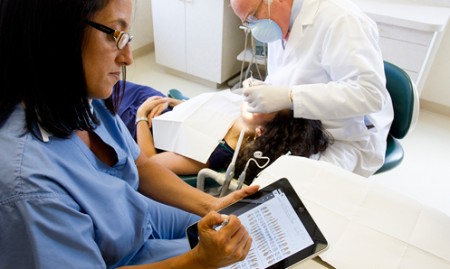 "iPad has become central to all aspects of the practice. In addition to simplifying patient forms and record-keeping, iPad enables Dr. Ferencz to show his clients photos of treatment options. And his technicians refer to digital images on iPad to create perfect-looking dental prosthetics."
Apple tablet is used for patient records (patients can even sign using a stylus on iPad screen), visual conversation to display photographs and x-rays, and demonstrate issue to technicians.
Favorite Apps of Dr. Ferencz:
iPad in Non-Profit Sector: Charity: water
Charity: water is an innovative nonprofit on a humanitarian mission. Its founder Scott Harrison pledges that 100% of public donations would fund projects, not operations. The 25 employees non-profit works in works in 11 countries to bring clean and safe drinking water to people in developing nations.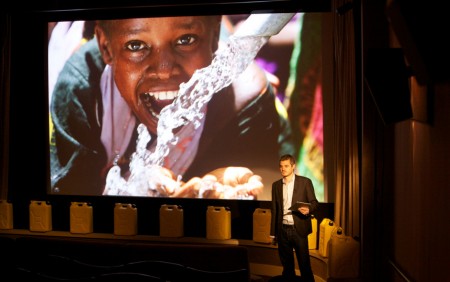 For this non-profit, iPad is effective for presentations in the boardroom, conference hall, or on-the-spot. The Apple tablet also allows instant donor action. With iPad App Square, they can swipe credit cards and process secure transactions instantly right on iPad:
Harrison explains: "A donor says, 'I'm excited; how do I help?' And you say, 'You can take out your credit card right now, and I'll mail you the receipt.' It's great because it turns a meaningful conversation into action."
With over 1.3 million twitter followers @charitywater, they use TweetDeck app to monitor their account. They also use iPad as a productivity device, book flights, download books and magazines, and bringing projects, tasks, email and calendar while traveling.
Favorite Apps of Charity water:
Pretty impressive don't you think? Perhaps while other businesses are still trying to copy the iPhone and iPod, iPad: the future is now?
via Apple iPad in Business: Profiles

Related Posts