Apple iOS Game Center Account Sign Up + Supported Games
In possible preparation for release of new iPhone & iPod touch firmware today, Apple resets the Game Center user accounts yesterday.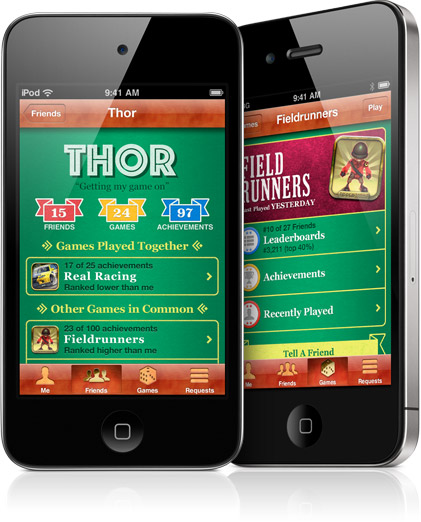 Due to the account reset, developers should sign up for their Game Center account again to claim their official usernames.
Game Center is Apple's gaming service focused on social gaming. You can play multi-player games with or against your friends. There are leader-boards and achievements to see who's elite. Taunt your friends to join a game or auto-match with friends or other players.
How to sign up for Apple iOS Game Center
Before now, iOS Game Center was working in sandbox test mode for developers. Now developers can register a permanent account. iOS gamers, wondering how to create a Game Center account to secure your user name?
Apply the iOS 4.1 firmware update for iPhone and iPod touch, which is expected to be released today.
Game Center iOS 4.1 App
Game Center is an app on 4.1. Open the app, fill out your info, then:
- Use your existing Apple ID email and password or
- Create a new account
After that's done, you can pick your user name. If your desired user name is not available, it'll let you know. Get some of the Game Center supported games below.
Sign Up for a Game Center Account Without iOS 4.1
You can sign up with the iPod touch 4G display at the Apple Store, or on a friend's iOS 4.1 device. You can create, sign in, and sign out of your Game Center account easily on different devices.
Note: If your iOS devices are jailbroken or unlocked, then don't update to 4.1 until a JB method is confirmed and tested in our iOS Guides.
What about iPad Game Center support? It is coming with the iOS 4.2 update.
Apple iOS Game Center Supported Games
*Online Multiplayer
Not all Game Center features are in all supported games. Some of the games only have achievements or multiplayer. (via)
Apple iOS Game Center Supported Devices
Apple Game Center is compatible with these iOS devices:
iPhone 4
iPhone 3GS
iPod touch 4th generation (4G, v4)
iPod touch 3rd generation (3G, v3)
iPod touch 2nd generation (2G, v2)
iOS firmware 4.1 is required, so people with jailbreak / unlock should not update.

Related Posts