Apple 2000 vs. 2010: iMac iPhone Evolution
The Force of innovation is strong at Cupertino. Latest evolution? iPhone 4.
Apple iMac iPhone Evolution
Bondi bubble iMac G3 vs iPhone 4: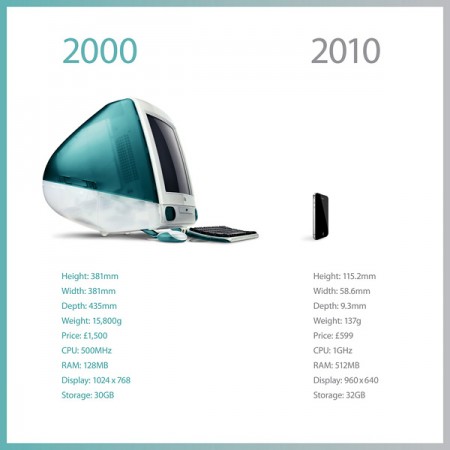 Is Moors Law especially strong at Apple, headquartered at Cupertino California? The tiny iPhone is more powerful than a desktop computer just a decade ago. (We know the iMac G3 was released in 1998, and the first iPhone was released in 2007, but that doesn't change the point).
iPod Invisa
So, what's in the next 10 years? iPhone / iPod inviso / invisa?
flickr via weloveapple tumblr (site does not allow direct link of posts)

Related Posts