"Apple Gone Wild" iPod Special Media Event Summary
Steve Jobs: "Apple Gone Wild" with new lineup of iPods. The Apple CEO introduces updates to iTunes with social networking, iOS firmware, Apple TV, HD recording iPod touch & more!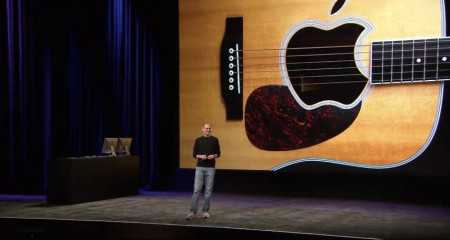 Apple CEO Steve Jobs started the special media event with updates.
Apple Store Retail Update
Retail update, Apple has opened three major new Apple Stores: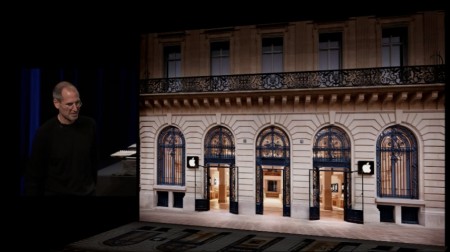 Apple Stores get over 1 million visitors on some days. Sometimes MacWorld gets only 50,000 per day.
iOS vs. Android
Apple activates 230,000 new iOS devices per day (more than Android's numbers). Steve Jobs: "We think some of our friends are counting upgrades in their numbers."
iOS 4.1 + 4.2 Firmware Update
iOS 4.1 Firmware for iPhone, iPod touch
iOS 4.1 firmware for iPhone and iPod touch is seeded to developers, expected to release next Wednesday. Like iOS 4.0 it's not for all models (older model from 2007 won't get it):
Improve iPhone 3G performance
Proximity sensor fix
Game center, Epic Games demoed iOS game "Project Sword" (released later in 2010 as Infinity Blade)
HDR camera capture, which combines multiple photos from iPhone and iPod touch 4G to add dynamic range (better color / exposure)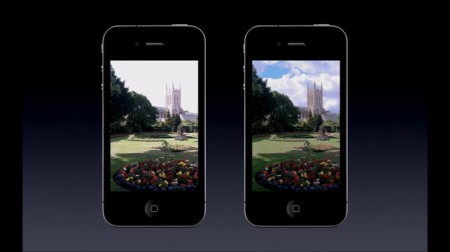 iOS 4.2 Firmware for iPad, iPhone, iPod touch
iOS 4.2 is said to be "all about iPad." It brings multitasking, folders, game center, HDR photos, wireless printing, Airplay (formerly AirTunes) to iPad. Airplay will now stream more than music. It will stream videos & photos too. Expected in November, which is still within the "Fall" timeframe Steve Jobs mentioned earlier.
OP Editor expects iOS 4.2 to bring feature parity to current iOS devices (in other words, similar feature / firmware update cycle as iPhone and iPod touch).
"Apple Gone Wild" 2010, with New iPods
With 120 million iOS devices and 275 million iPods shipped so far, Apple CEO Steve Jobs introduced new 2010 enhancements to the popular iPod:
Steve Jobs briefly joked about the possible iPod nano on a wristband iWatch mod.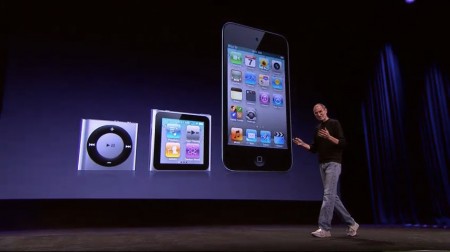 iPod classic is not refreshed, but it's still available on Apple online Store.
iTunes 10 Update
iTunes is now beyond music, with 11.7 billion songs downloaded, 450 million TV episodes, 100 million movies, 35 million books, 160 million accounts with credit cards. #1 online media store in the world.
Thus a new icon: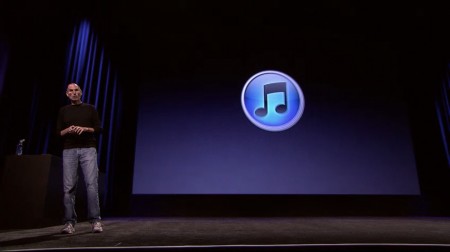 There's a hybrid view that shows album cover in place of identical album cover names for over 5 songs.
iTunes Ping: Music Social Networking
iTunes 10 has a brand new integrated social networking, if you choose to use it. Ping is available in iTunes on Mac or PC, iOS on iPhone, iPod touch (and probably later on iPad). iTunes 10 will be available later today.
Special guest, Lady Gaga!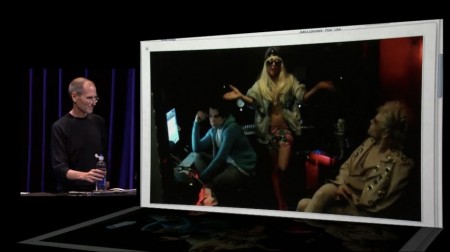 Steve Jobs: "Follow your favorite artist and friends to discover the music they're talking about."
One More Thing / Hobby: iOS Apple TV
New Apple TV is almost 1/4 the size of the previous Intel-based Apple TV. It's not renamed iTV although the 2010 Apple TV is running a version of iOS that looks like the previous Apple TV. The new Apple TV is an iPod for the TV but without the storage space.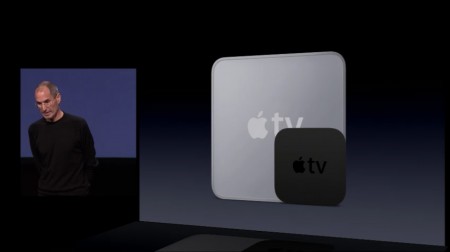 Besides 720P HD movie and TV show rentals, new Apple TV has Netflix streaming (with account), YouTube, Flickr, & MobileMe integration. Comes with remote. It has iPad-like origami screensaver. Rental price for first run HD movie rentals is $4.99, prices are lower for older films. $0.99 TV show rentals are commercial free. ABC and Fox are on board.
2010 Apple TV will be available $99 in 4 weeks. Pre-order today.
Steve Jobs did not mention how many apps will run on Apple TV, so the 2010 Apple TV might not have the standard iOS. When do you think the iOS Apple TV will be jailbroken?
Apple Concert: Coldplay Chris Martin
No Lady GaGa concert at the Apple gone wild iPod special media event, even though Steve Jobs mentions her quite a number of times during the event. The post-event concert today is performed by Coldplay's Chris Martin [itunes link], who has 50 million albums sold + 7 Grammy Awards: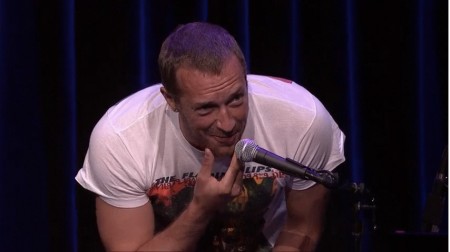 See below for 18 images, of which 8 are posted above.
via Apple events

Related Posts