AirPhone 4 (iPhone 4 Knockoff) Video Review
This is why you should not buy knockoff electronics, especially one that tries to copy the Apple iPhone 4.
AirPhone / HiPhone: Fake iPhone 4 Review
If you got some time to kill, check out the long 29 minute video review of the fake iPhone 4 knockoff from China called "AirPhone 4″:
The fake iPhone sold as Air Phone 4 or Hi Phone 4 has a removable battery, dual sim card slots, stylus, and music installed. It seems to have more features than the iPhone 4 on paper. It runs Java applications, just like Android.
Doesn't it mean the knockoff is better? MicroSheep and FanDroids, with motto: but it sort of looks like Apple products, think so.
Summary: iPhone 4 Knockoff is Rubbish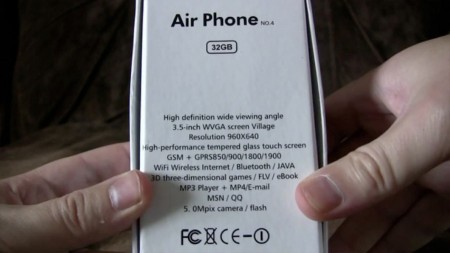 For those who don't understand features on paper do not equal usability, here's a summary. The AirPhone iPhone 4 knockoff is rubbish:
"It's Phone! It's Air! It's 4! Well, actually it's barely a phone, let alone the other two things."
Not all touch screens are the same. Even multi-billion dollar companies can't get it right, as demonstrated in this touch screen test. So, would counterfeit makers, the same people who make faux-metal-coated plastic Rolex knockoffs, get it right?
It might look superficially similar enough to fool simpletons, but the iPhone knockoff doesn't work the same.
[via "SuffocationPhone 4", ashens]
Fake / Counterfeit iPhone 4 Alert
These knockoffs already come with iPhone 4 box art, but some versions of this phone even comes in a box with Apple iPhone 4 name on it. Beware of scammers trying to sell these fake phones as iPhone 4 on Craigslist or other websites.

Related Posts