Vimeo Starts HTML5 Video Embedding Support
Vimeo now offers a choice from Google-owned YouTube for those who like to embed iPhone, iPod touch, and iPad compatible HTML5 videos.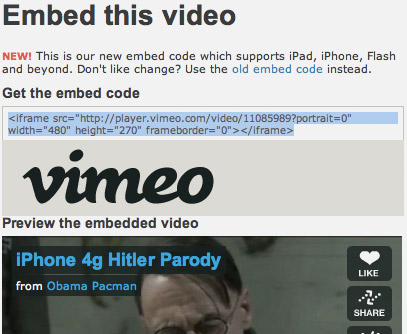 Vimeo is the one of the first sites to offer iPad HTML5 video option on their website. However, until now, their embedded videos are in proprietary Flash only format. But no longer.
For iPhone, iPod touch, iPad that have HTML5 support, Vimeo just started offering the Universal Player, switching from resource-consuming Flash to HTML5 for modern mobile devices. So, how do you embed HTML5 capable Vimeo videos? Just try to embed it and you'll first get the modern player option.
Vimeo HTML5 Video Embed Example
Here are some examples of the Vimeo HTML5 video player embedding, use iPhone, iPod touch, or iPad to view:

(The classic Gizmodo H1tler Parody Vimeo Universal Player Embed)

(The 70 Million music video by Mac creatives Vimeo HTML5 Embed)
Old Vimeo embed codes will continue to work as is. But old embed codes don't work with mobile devices without being manually updated. At this time, serving mobile capable videos is said to be Vimeo Plus feature only but works on some non-plus videos.
via vimeo blog

Related Posts