Cydia's Saurik Fixes PDF Exploit on Jailbreaked & Older iOS Devices
Apple's new 4.0.2 and 3.2.2 iOS firmware fixed the PDF exploit used to jailbreak, but what about Jailbroken devices and legacy first-generation 2007 iPhone and iPod touch?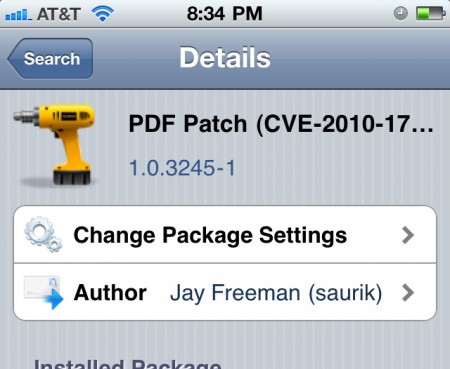 PDF exploit Fix
Cydia creator Saurik has a fix for the PDF exploit for jailbreak / software-modded and older iPhone, iPod touch, and iPad. You no longer need the PDF Loading Warner, when Saurik's software closes the security issue.
Cydia software "PDF Patch" fixes the issue for all iOS devices and all firmware versions from 2.x to 4.0.1.
Install iOS PDF Patch
1. Go to Cydia (use iOS guides if you need to jailbreak)
2. Search for "PDF Patch"
3. Install
If you already have the PDF Loading Warner installed, you can safely remove that app via Cydia (quick reboot / springboard relaunch required).
Again, Apple has fixed the issue quickly with 4.0.2 for recent iPhone & iPod touch, 3.2.2 for iPad. You only need this if you got a software-modded iOS device or 3 year old device.
via unofficial iphone-dev team

Related Posts