Russian Apple Store Display Fail
Displaying merchandise, you're doing it wrong! Russian Apple Store taunts users to "please touch" this MacBook Pro.
Russian Apple Store Display Fail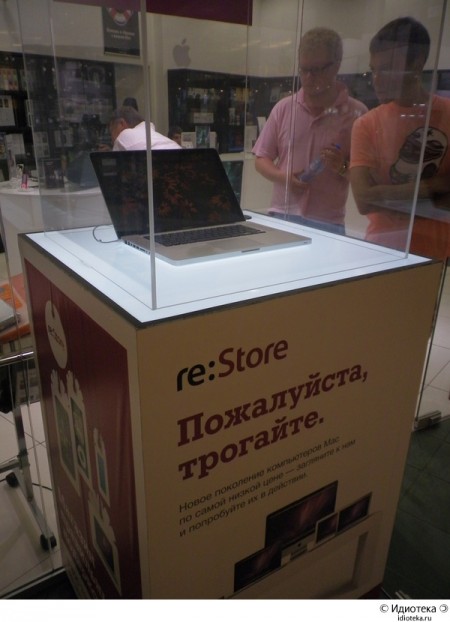 Why is this a design fail? Here are the Russian writings on that display, and translation:
Russian Apple Store display:
Пожалуйста, потрогайте.
Новое поколение компьютеров Mac по самой низкой цене – загляните к нам и попробуйте их в действии.
English Translation:
Please touch.
A new generation of Mac computers at the lowest price – come visit and try them in action.
Now look at the case. How can you touch that Mac?
So much for customers trying out the Apple computer with multi-touch trackpad when it's behind that thick case. What is it, an inch of bulletproof glass or something? Yes, it's more a Re:Store reseller fail rather than Apple Store fail, but those customers must be thinking WTF by the expression on their faces.
via artlebedev
Tipped by Maria, who doesn't design it wrong but uses sharks with fricken laser beams to guard her MacBook Pro.

Related Posts