OMG, Viral Double Rainbow App for iPhone, What Does It Mean???
Viral video fun now comes to your iPhone, iPod touch, and iPad as an App. Bring out the double rainbow "excitement" whenever you want!
The Double Rainbow video has gone viral around the globe, with coverage by major networks such as CNN, interviews by late night shows such as Jimmy Kimmel. Here's the inspired-song, original video, 3 App Store Apps, and a bonus double rainbow 404 special!
Double Rainbow Song, by G. Bros
What does this mean? It's so bright, so vivid! So intense! All the way across the sky! The Double Rainbow anthem, sang by the Gregory Brothers featuring the famous lyrics "written" by Yosemite Bear:
You can buy the Double Rainbow song here [itunes link].
Whoa! Original Double Rainbow Video
This is the Double Rainbow viral sensation video by Paul 'Yosemite Bear' Vasquez that started it all (getting interviewed by CNN probably helped too), with almost 10 million views at this time:
What do you think would happen if you bring him a bowl of skittles? Better get that iPhone 4 camera ready.
If you got MiTube YouTube downloader, you can download the Double Rainbow video, but what if you can't get enough? There's an App for that!
Double Rainbow Sound Board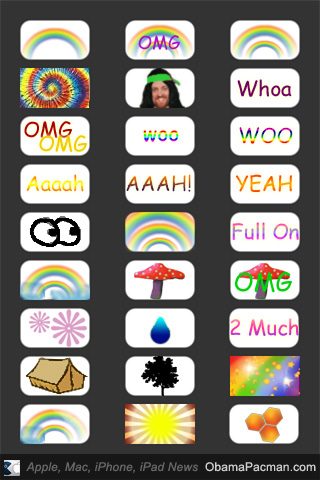 This Double Rainbow App [itunes link] is full on. The soundboard with almost 30 sounds contains all the intense reactions from double rainbow guy Paul 'Yosemite Bear' Vasquez, including:
whoa… that's a full rainbow all the way
double rainbow, oh my god
it's a double rainbow, all the way
whoa that's so intense
whoa ho ho!
it's starting to look like a
triple rainbow
it's full on!
too much
what does it mean!?
moaning
crying
double rainbow all the way across the sky
omg omg!
and many more notable reactions from the viral video classic
Make sure you iPhone is not set to vibrate (sound switched off).
Double Rainbow News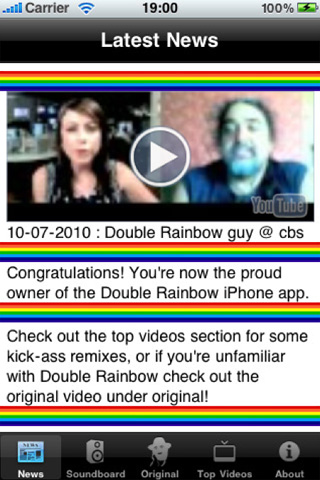 This Double Rainbow App [itunes link] includes the original video, and list of the most popular remixes and parodies, latest news about the Paul 'Yosemite Bear' I didn't do drugs Vasquez, and a sound board with 20+ sounds.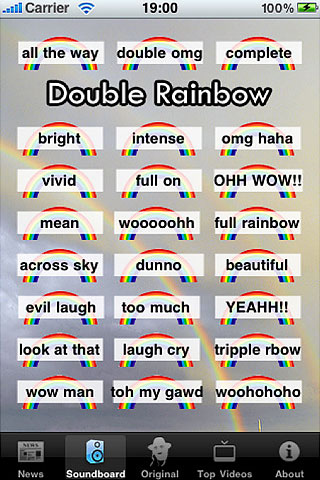 Our suggestion: auto-tune the Double Rainbow news!
Double Rainbow Game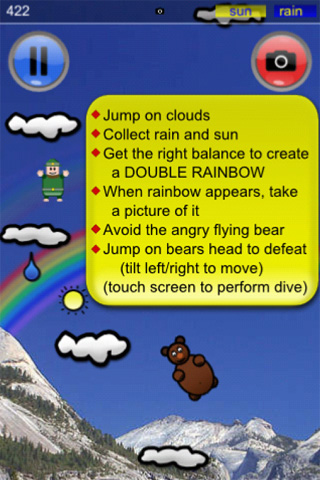 Yes there is a Double Rainbow game [itunes link] for iPhone, iPod touch, and iPad. The App description reads: "funny sounds and good times await you."
The Double Rainbow game lets you jump on clouds, collect rain and sun, create a DOUBLE RAINBOW with the right mix of ingredients, take pictures of rainbows, and avoid angry flying bear. What, no unicorn?
One thing the app got wrong is the angry flying bears. Come on, have you seen the video? It's more like mellow but intense Yosemite Bear high in the sky.
Double Rainbow 404
OHHHHHHHHH, we need this magical double rainbow 404 from blippy: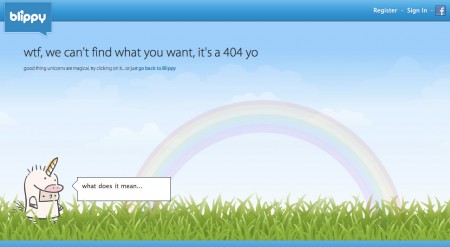 Like rainbow? What about Apple rainbow? Get your magic unicorn approved accessory, now:
white iPhone 4 skin with retro Apple Rainbow Logo (or modern black Apple if you are not into rainbows)!
How much do you like the story? Full on or too much? Let us know in the comments below!

Related Posts