Movie Director Goes to Apple Store For iMovie Tips
Oscar-winning director Martin Scorsese goes to Apple Store for free iMovie workshop?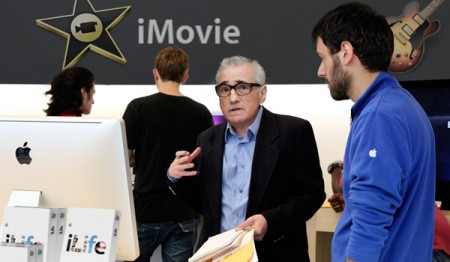 This is an article from the Onion, known for its fabricated satire reports including the Apple Friends bar and new innovative Android features.
Director Martin Scorsese is known for Raging Bull, Goodfellas, Cape Fear, Gangs of New York, and 2010's Shutter Island. (Shutter Island stars Leonardo DiCaprio, who also starred in Inception.)
So where does Scorsese go for movie-making help? To keep up with latest technology, the Oscar-winning filmmaker goes to Apple Store to learn about digital film making with iMovie! Apple provides free workshops at Apple Stores, and this is one on making movie with iMovie and making soundtrack with Garageband.
Verdict? He's impressed!
"Importing, editing, post-production—they got it all on the computer," said Scorsese, who arrived 20 minutes early for the in-store workshop. "I like it. You can make your pictures right on there, it's tremendous."
"And it's so intuitive, my gosh," Scorsese added. "You just take your shots and you drag and drop them—drag, drop, drag, drop, wherever you want them to go. It's going to make things so much easier for me and [longtime editor] Thelma [Schoonmaker]."

iMovie is part of Apple iLife, which comes with all Apple computers [amazon link
].

Related Posts