Microsoft Windows 95, Fifteenth Birthday Mac Fanboy Tribute
Yes, it's been 15 years since Microsoft spent hundreds of millions of dollars to brainwash (um, evangelize) MicroSheep to join the Redmond PC hive. Here's our Mac fanboy tribute to 1995, the year of Windows 95 and Pixar Toy Story.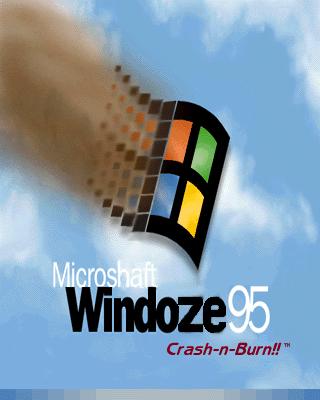 Silicon Valley 1995: Microsoft Windows 95, Apple, Pixar, & Steve Jobs
1995 was a pivotal year in Silicon Valley tech history.
Microsoft launched its Windows 95 on August 24, 1995, eventually spending $300 million on marketing to evangelize Microsoft users.
Apple CEO Steve Jobs in 1995
It was a time when Apple founder Steve Jobs was still kicked out of the personal computer company he founded, and Apple was without a visionary Luke Skywalker or Captain Kirk who could fight the Microsoft dark side.
Steve Jobs' other company, NeXT was not doing so well due to a non-compete agreement with Apple, although Steve's NeXT computers were used by tech visionaries such as the World Wide Web inventor.
Steve Jobs Owned Pixar Debuts Toy Story
However, it was also the year when Pixar, computer animation company that Steve Jobs bought in 1986 (which almost bankrupted him) released Toy Story [itunes link HD], the first of their blockbuster movies. The success of Toy Story secured Steve's second successful business and gave Steve Jobs a glimpse into Hollywood consumer entertainment (which we think eventually lead to iTunes / iPod).
Steve Jobs eventually earned more wealth from Pixar than his shares in Apple computers.
Windoze Hive Mind: Bill Borg Gates
The brains behind the Redmond copy machine. Star Trek inspired Microsoft CEO Bill Borg Gates tribute: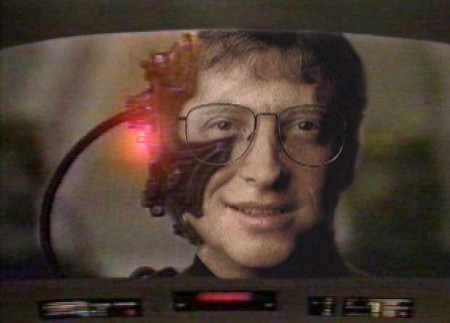 Former Microsoft CEO Bill Gates headed the greatest heist in software history ever. Gates had the B.S. skills to license DOS, a software he did not own to IBM, due to Big Blue monopoly's fear of Apple computers.
Microsoft, under Bill Gates, also successfully pressured Apple to sign over Mac OS intellectual property to Redmond for almost nothing, while Steve Jobs was kicked out from the Cupertino company.
Microsoft Windows 95, Funny Quote
Mac fanboy quote to commemorate the fifteenth birthday of Microsoft Windows here:
Windows 95 (win-DOH-z), n. A thirty-two bit extension and graphical shell to a sixteen bit patch to an eight bit operating system originally coded for a four bit microprocessor which was used in a PC built by a two bit company that couldn't stand one bit of competition.

Microsoft's Bright Future?
Times have changed and fortunately, the Redmond Dilbert Committee has been slow to copy Apple in recent years.
After a decade of Apple wins against Microsoft et al., under CEO Steve Jobs, Apple surpassed Microsoft's market value. So, hopefully we will be able to put the 2-bit-Microsoft out of its misery within the next 15 years.

Related Posts