Jailbreak iPhone 4, 3GS! iP4 Unlock in 48 Hours
Instructions: How to jailbreak iOS 3.12, 3.13, 4.0, 4.0.1 on iPhone 4, iPad, iPod touch.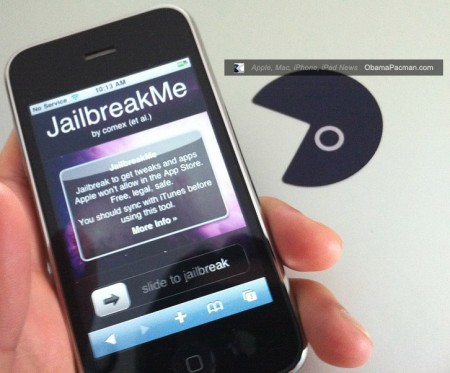 Looks like the cute I can haz jailbreak video might have worked! Comex and unofficial iPhone dev team has released one universal solution for all iPhone, iPod touch, iPad running recent iOS versions.
This is the easiest iOS jailbreak so far. Go to a web site and slide to jailbreak. Before the how to, here's something about jailbreaking iOS.
What's Jailbreak?
With an iPhone, iPod touch, iPad jailbreak (a method to install unofficial apps not in the Apple App Store), you can have:
Carrier / iPhone unlock
Tethering without monthly fee
SSH access to your iPhone
Customizing lock screen
And many other unofficial and third party apps and system-wide features / hacks / mods
The trade off is that your batter life will be shorter if you got too many system-wide unofficial apps installed.
How to Jailbreak iPhone 4, iPod touch, iPad
First, your device needs to be activated (able to get to Mobile Safari)
1. Sync your iOS device to iTunes
2. Confirm data is backed up
3. Go to JailbreakMe.com using iOS Mobile Safari (if it's broken you might want to try www.JailbreakMe.com )
4. Slide to jailbreak. If you see a progress bar, let it run and you're done. You should now have a Cydia Icon (Cydia is the main unofficial app store for jailbreaked iOS devices).
0. Optional: backup iOS SHSH, you can do this any time, on any firmware. However, you can only backup the SHSH for the current official firmware. (iPhone & iPod touch is 4.0.1, iPad is 3.2.1). SHSH allows you to downgrade your iOS device so you can jailbreak.
Of course, like any computer system, you should only install 1 piece of software at a time, test to see if the new software is stable, before adding others. Installing dozens of unofficial-apps or iPhone system mods at the same time will be hard to troubleshoot.
IMPORTANT: Once you are jailbreaked, you should NOT update firmware via iTunes. Do NOT click ok if iTunes asks you to update your firmware. Again, do not update your software via iTunes when 4.0.2 or 4.1 or later is released. Check back here at ObamaPacman.com for newest information on when is safe to update your firmware.
iPhone 4 / 4.0.1 Unlock
The unlock for iPhone 4 is expected to be available in 48 hours (but don't hold your breath or start a timer, iPhone 4 unlock will be ready when it's ready).
Instructions on how to unlock iPhone 3GS is coming on the next article.
Jailbreak iPhone 4 / 4.0.1 Video
This is what it should look like if everything is working properly. (Their servers are getting swamped right now, so if you don't see progress bar, try again)
JailbreakMe iOS Jailbreak Compatibility
What iOS devices are supported by Jailbreakme.com
iPhone 3G on 3.1.2
iPhone 3G on 3.1.3
iPhone 3G on 4.0
iPhone 3G on 4.0.1
iPhone 3GS on 3.1.2
iPhone 3GS on 3.1.3
iPhone 3GS on 4.0
iPhone 3GS on 4.0.1
iPhone 4 on 4.0
iPhone 4 on 4.0.1
iPad on 3.2
iPad on 3.2.1
iPod touch 1G on 3.1.2
iPod touch 1G on 3.1.3
iPod touch 2G on 3.1.2
iPod touch 2G on 3.1.3
iPod touch 2G on 4.0
iPod touch 3G on 3.1.2
iPod touch 3G on 3.1.3
iPod touch 3G on 4.0
As usual, beware of iPhone unlock scams.

Related Posts