iPhone Hand-Engraving Art
How do you engrave the hardened iPhone steel bezel by hand, without using computer controlled lasers?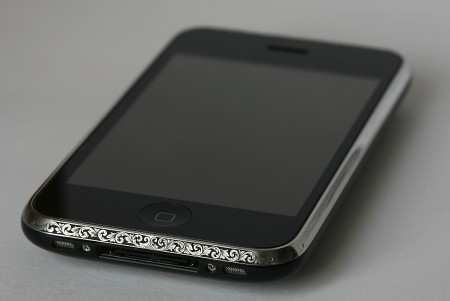 By breaking many-many graver tips and spending at least 1/4 of the time re-sharpening the gravers… Engraver Viljo Marrandi describes the iPhone steel bezel as "very tough."
iPhone Hand Engraving
Is laser engraving true engraving? Not to this engraver who wants his iPhone engraving handmade. Viljo plans to first hand-engrave the bottom part of his iPhone, so if he screws up, it won't be too noticeable. He drew on the iPhone's 3mm metal border and started hand-engraving his "very basic" design.
The section shown took 8 hours to complete. The result? Beautiful!
"Finally I have something to show when trying to explain what kind of engraving I actually do."
He is available to make you a custom engraved iPhone! After he finishes re-sharpen his tools, of course.

Related Posts