iPhone OS iPod Keeps Track of Your Bar Tab
A pub in Manchester UK has a clever solution to help you keep track of your brewskis with Apple iPod touch.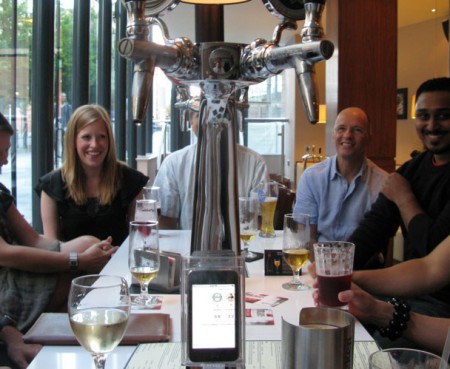 You've seen the Yelp built iPad KegBot. Now here's a commercial iOS technology solution for bars to minimize customer wait time.
At Taps Bar in UK, you don't have to wait for busy bartenders to serve you. Tables have built-in beer taps and an iPod Touch controlled bartender substitute that keeps track of your tabs.
"You can top up the app at the bar and when your beer runs out, the app will close the tap. You have to go back to the bar to top it up." Grzegorz at Access Advertising UK described.
This iOS iPod touch based solution runs the DraftMagik App by a company called DraftServ. The business integrates Point-of-pour control with iOS portable devices, RFID loyalty cards, one-time use wristbands, or other touchscreen devices.
Looks like the bar's strategy is to serve such tasty beer that patrons will be drunk long before they think of running out with the Apple iPod touch.

Related Posts