iPhone Beats Android Texting Speed World Record
Fast iPhone typist easily beats Android text messaging speed world record.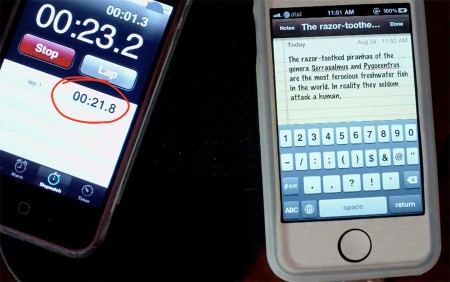 Samsung / Android PR
Earlier this week, a story suspiciously reeks of planted PR was published around the web. The story claims that a woman who "just walked in off the street to a Samsung roadshow" beats the world record of text messaging using the new Android Samsung Galaxy S. The woman is said to use the new Swype keyboard to break 25.94 seconds for the new text messaging world record.
But it appears that the texting world record is not rigorously challenged very often.
Texting World Record, iPhone Style
iPhone user Brain Sweet at Gumball Tech is not impressed. It took him 5 minutes to beat the Android "world record," clocking in under 22 seconds on an iPhone:
Brian typed on an iPhone 4 with white skin (we have a version for sale) while using an iPhone 3 / 3GS to time himself. He typed this passage in 21.8 seconds:
"the razor-toothed piranhas of the genera Serrasalmus and Pygocentrus are the most ferocious freshwater fish in the world. In reality they seldom attack a human,"
As to validity of the texting world record qualifying time, Macrumors reports: "Gumballtech relied slightly on the iPhone's text correction, but that certainly can't be a disqualifying issue as Swype is entirely based on predictive text generation."
gumballtech via macrumors

Related Posts