In Steve Jobs We Trust: Dollar ReDesign Project Puts Apple CEO on $100 Bill
Rebranding the buck… "Let's stop looking backwards and focus on the future."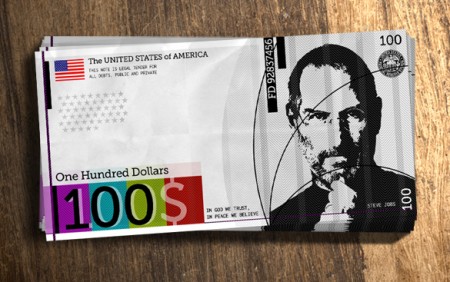 Dollar Bill -> Apple Money Redesign?
Raffael Hannemann thought it would be great to look forward to the future with the redesign of Dollar / iMoney: "The Dollar ReDe$ign Project hopes to bring about change for everyone. We want to rebrand the US Dollar, rebuild financial confidence and revive our failing economy."
Thus he created a "long-lasting composition of colors and shapes that avoids being fashionable and therefore never appears antiquated by focusing on the value of the note itself and the colors of the US flag."
Of course, what would be better than Apple CEO, Steve Jobs, the silicon valley success and most valuable CEO on the $100 bill?
Um, the money colors are all wrong, where are the colors from the Apple retro rainbow logo? =p
Update: Raffael Hannemann wrote to OP to mention that there is a contest poll. Everybody who is interested in can directly vote: Vote on the design

Related Posts