iControlPad, iPhone Hardware Gamepad
Finally in mass production! iControlPad, the Duke Nukem Forever of physical gamepad for iPhone & iPod touch, designed to play NES, Playstation, & other console emulation games on iOS.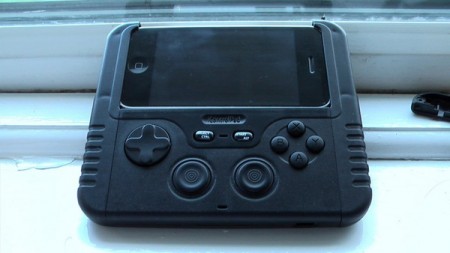 iControlPad has a great concept.
Even though iPhone & iPod touch has a great touch screen, accelerometer, and even a 3-axis gyro on iPhone 4, old consoles games are just not made for a touchscreen device. Those old console games rely on precision buttons and d-pad controls to play, thus they aren't that great on a touchscreen.
Out comes iControlPad to fill this missing niche of hardware gamepad, with buttons, d-pad, and analogue sticks for those with nostalgia for retro console gaming.
iControlPad Evolution
Ever the perfectionist, the folks at iControlPad went through multiple revisions of their product to future-proof their case, which was first demoed in 2008:
The iControlPad was first designed like a case, but what if the iPhone design changes? They had the foresight to use an innovative design to account for different mobile devices. All you need are the side rails.
Well, I hope they won't plan another revision for the iPad.
Where to Buy / Pre-order iControlPad?
They are planning on offering two versions, one with built in battery to double the play time of old iPhone 3GS, and one without battery. How much is the iControlPad? We don't know at this time. Price and ordering information for iControlPad is coming in September from the website. We'll of course let you know too!
Update: The iControlPad gamepad is delayed due to reworking to use bluetooth instead of dock connector.
icontrolpad and twitter
via engadget

Related Posts