How to UNLOCK iPHONE Guide + new iOS Guides
We've added a new section in the ObamaPacman.com menu bar, for easy to find iPhone / iOS guides, such as: how to unlock Apple iPhone.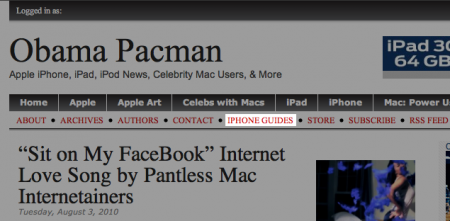 How to unlock iPhone 3GS, iOS 4, Latest Modem Firmware
You can now unlock your iPhone 3GS with iOS 4 and the latest Modem Firmware including 05.13.04, 05.12.01. Go to: How to unlock iPhone (currently unlock all iPhone 3GS, 3G. iPhone 4 unlock coming soon)
iPad, iPod touch Guides
Yes we've called it the "iPhone guides" page, but in addition to iPhone guides, many of the guides are also for Apple iPad tablet and iPod touch!
Check out the iPhone Guides knowledge base webzone, with useful guides such as: saving iOS SHSH, Confirm iOS Backup, Jailbreak iPhone, iPod touch, iPad, unlock iPhone guide, FAQ.
More pages will be added there in the future.

Related Posts