White iPhone 4 Skins, DIY Removable Kit
White iPhone 4 is delayed again by Apple until "later this year." But if you want to stand out with the rare white unicorn iPhone 4, we got an inexpensive skin kit for that.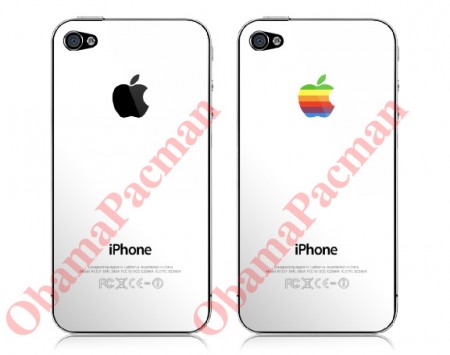 Elusive White iPhone 4 Options
You can build your own white iPhone 4 by buying hundreds of dollars in white iPhone parts, dissect your iPhone, salvage small not-for-sale parts, and hope you don't break anything. Or you can use the ObamaPacman unicorn iPhone skin to turn your exiting black iPhone 4 into white iPhone 4 easily, without voiding your warranty.
Doing it Wrong
Of course, you can make your own, or use a pre-made graphic to make your own at gelaskins. The problem is, none of the home-made white iPhone 4 back cover skin images are that realistic.
Common problem we've seen is wrong graphics or font being used, missing proper footer, or placing graphic elements in the wrong place. Often all three problems are combined, which means the other white iPhone 4 skins are fairly far off from the real thing, resulting in a ghetto made look.
Our White iPhone 4 Skins
If you don't want to spend time to get the ghetto made look, we've done the work for you. It even uses 100% same material as gelaskins straight from the same process to give it a great look!
ObamaPacman has spent many hours getting the graphics right with our OMG, white unicorn iPhone 4 DIY Kit! Due to the printing tolerance required it may or may not be accurate to the hair, but we believe our white iPhone 4 skin kit is the closest to Apple's white iPhone 4 design.
Modern Black or Retro Rainbow Logo
Available in modern black Apple logo or retro rainbow Apple logo, both with proper footer graphics like a real Apple white iPhone 4.
Our Price is Lower! Order:
Due to the reduced shipping charges offered by ObamaPacman, the total order price is actually slightly lower than buying from a certain shop for all countries except for Canada.
Shipping is 1 flat rate no matter how many white iPhone 4 skin kit you buy, in addition, you can also order the Obama Pacman Sticker with $0 additional shipping charges.
So what are you waiting for? Order the White iPhone 4 Skin Kit for your elusive unicorn DIY white iPhone 4 now!

Related Posts