Apple Reinvents AA Rechargeable Battery Repackaging (+ Battery Deal)
Released along Magic Trackpad is the new Apple NiMH battery charger and rechargeable batteries. Today, a secret behind it is revealed.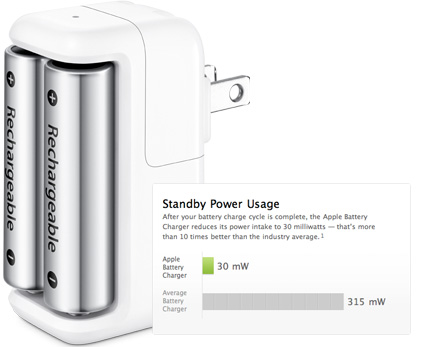 Apple built a new NiMH AA battery charger with industry leading low vampire draw. It comes with six AA batteries, which has Apple metallic design but no prominent Apple logo. Dissecting the Apple rechargeable batteries reveals that they are actually Sanyo Eneloop batteries. (Apple did built its new charger though.)
The good news? These batteries are reported to keep 75% of charge even after 3 years.
Apple version [Amazon Link
] at $24.44 comes with low vampire draw charger + 6 batteries.
OP suggests buying the Apple charger for the low vampire draw, and get extra batteries via the links above.
The great news? We got some great deals of Apple equivalent rechargeable batteries for you. These AA batteries are identical to those sold by Apple. The Eneloop 1000 AA batteries are rated MINIMUM 1900 mAh, powerful enough for SLR external flash or compatible digital cameras:
Update, 2013 July 3, added Sanyo 2000 batteries (AA rated minimum 1900 mAh):
2000 AA Batteries with charger, 18.35 [Amazon Link
]
2000 AA Batteries (4 pack), $19.90 [Amazon Link
]
2000 AA Batteries (8 pack), $20.19 [Amazon Link
] (at this price, just buy two 4 packs)
2000 AAA Batteries (4 pack), $10.90 [Amazon Link
]
Older:
1000 AA Batteries with charger, $18.30 [amazon link
]
1000 AA Batteries (8 pack), $19.62 [amazon link
]
1000 AAA Batteries (4 pack), $10.14 [amazon link
]

Related Posts