Apple iOS Firmware Download: iPhone iPod touch 4.0.2 iPad 3.2.2
Apple's newest firmware update released today blocks the PDF exploit and wipes out universal jailbreak for iPhone 4, iPad, and iPod touch.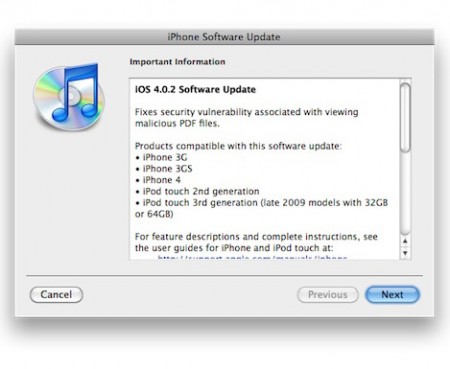 The iOS PDF exploit brought the theoretical sky-is-falling Apple doom-sayers out of the woods, only to be shown by Apple that they are wrong.
The new iPhone, iPod touch firmware 4.0.2 and iPad 3.2.2 is released today, a week after Apple mentioned that it has a fix for the PDF related security vulnerability. The firmware updates are hundreds of MB in sizes.
Update or Not Update?
You got 3 options:
1. Sync / backup device, and update your iOS device to the latest firmware.
2. Stay on older firmware without updating. Don't go to shady web sites and try not to download PDF files.
3. If your iPhone is jailbreaked or software unlocked, do not update. Instead, you can get the PDF loading warner app to avoid the PDF exploit.
Apple should stop signing the jailbreakme capable firmware (4.0.1 and 3.2.1) very soon.
You can try to save your SHSH before Apple stops stinging older firmware, so you can downgrade to a jailbreak-able iOS version. Use the iOS / iPhone guides to save your iOS SHSH.

Related Posts