App Store Rejects Walt Mossberg Inspired Mosspuppet Soundboard
Demo of the fun Mosspuppet Soundboard iPhone App that may never be.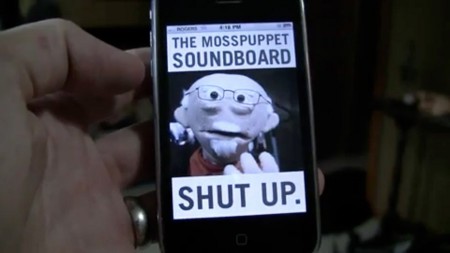 Video Demo: Apple App Store Rejected Walt Mossberg
Mosspuppet studio demos all the fun things you can do with the Mosspuppet Soundboard, including a special brand of Apple love and Microsoft tease such as: Apple products are amazingly fantastically wonderful with features up its butt vs. (Microsoft CEO) Ballmer bold. Spoiler alert: something about Steve Jobs nipple loving.
Perhaps we need to pressure the Apple iTunes store to approve the Mosspuppet app? Would be great to have this alongside the Double Rainbow App and Daft Punk inspired App on iPhone 4.
via
Mossboard: Mosspuppet iPhone App

Related Posts