UK Artist Kyle Lambert Creates Beyonce Painting on iPad
UK artist Kyle Lambert makes a life-like painting of Beyonce on his Apple iPad. Check out the time lapsed video of the painting progress.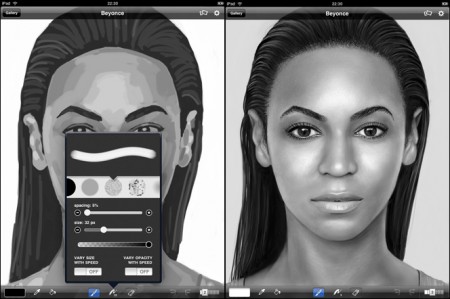 The portrait of Beyonce took Kyle Lambert 6 hours to paint, using iPad as his easel:
Kyle summarizes his work: "My artwork combines traditional painting techniques with cutting edge technology to produce rich, realistic portraits and character based concepts and designs. The iPad expands the possibilities for artists like myself to take digital artwork creation away from the computer and out into the world."
Kyle used the Brushes App [iPad App and iPhone App], also the app of choice for some artists such as Jorge Colombo, who drew New Yorker cover on his iPhone.
How do you think it compares to the Mario Bowser Castle iPad Painting?
[iPad App and iPhone App]
via
kylelambert.co.uk

Related Posts