TESO LPAD, Fake iPad Knockoff Fail
Here's a completely clueless knockoff maker hoping to make a counterfeit iPad running MeeGo, Android, and Windows 7.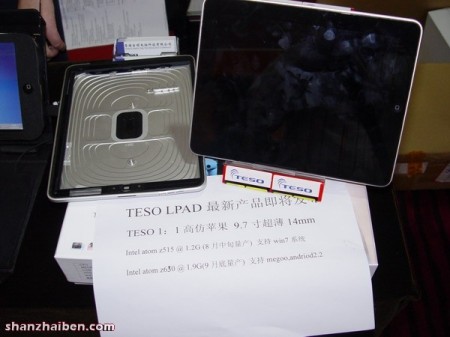 Knockoff makers are typically pretty clueless, but why does TESO take the hopeless counterfeiter award? Their product looks like a dissected iPad, doesn't it?
The TESO LPAD iPad knockoff claims to be available with 9.7″ display, 14mm thick (slightly over 0.5″ thick), and these specs:
- Intel Atom 1.2Ghz processor running Windows 7 in August
- Intel Atom 1.9Ghz processor running MeGoo, Andriod 2.2 froyo in September
iPad Knockoff Runs "Andriod" 2.2, not Android 2.2 Froyo
Android is considered mostly by Fandroids to be a credible competitor to Apple iOS due to its claims of "openness," but TESO doesn't offer Android with their fake iPad. Instead they are offering Andriod 2.2.
iPad Knockoff Runs "MeGoo" Mobile OS, not MeeGo
MeeGo is a Linux based mobile OS for currently at v1.0 made for netbooks and handhelds. But the TESO iPad counterfeiter is providing "MeGoo" OS instead of "MeeGo."
Squiggly Apple Letter Not Quite It?
Can't read what it's supposed to say but we had a feeling they probably copied the chinese characters for Apple wrong. Upon comparison with translated Apple, the TESO LPAD Apple characters seem to be different than the Google translated "Apple." Click on image to zoom.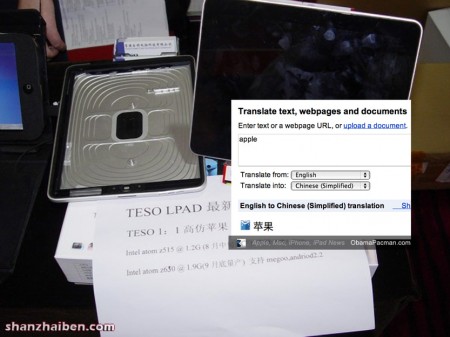 Pretty sure different element means different things (um, Simplified Chinese readers please confirm).
What About LPAD Fake iPad Running Winodws 7?
Intel Atom Running Windows 7 on a 1.2Ghz processor? ROTF. Perhaps try Windows XP if you want to run it on a lowly 1.2Ghz Atom (netbook) processor.
At least TESO is beating the Microsoft tablet OS with an actual release date. But wait, did they mention what year? 2010, 2011, or 2012? It's not listed on their spec sheet. But of course, seems like the TESO LPAD fake iPad works so well it does not even turn on for the photo opp. Keeping it real fake guys.
via engadget

Related Posts