President Obama Thinking About Switching to iPhone
On the View, President Obama reveals a secret behind the official Presidential Tweets and desire for an iPhone.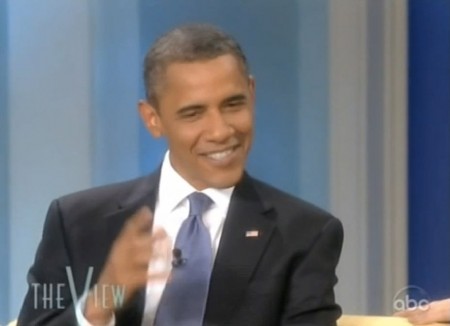 So what's the secret? President Obama reveals that he doesn't tweet, so some 20 year old is doing the official Presidential Tweets.
President Obama: "BlackBerry is no fun"
If we are going for the taking quote out of context award, we would definitely quote President Barack Obama has RIM hate…
Obama said "BlackBerry is no fun."
The context is he said that because people thought the communication will be subjected to the Presidential Records Act. Thus they don't send him anything "juicy." (Everything on BlackBerry goes through the RIM servers, so there is potentially no privacy.)
President Obama on Getting iPhone
About getting an iPhone, President Obama says: "I have not made the switch YET." Note he said YET, so do you think Obama is waiting for iPhone 5 or the first white iPhone 4?
But Barack has a "pod" though, referring to his iPod. The Presidential iPod contains songs from Jay-Z, Frank Sinatra, and Maria Callas. There is no no Justin Bieber though, fortunately.
[Video here at gawker (iOS compatible)]

Related Posts