President Obama Demos Healthcare.gov on Mac!
Demoing new US government healthcare website? There's a Mac for that. Obama, President of the United States shows how it's done with the Presidential Apple MacBook Pro.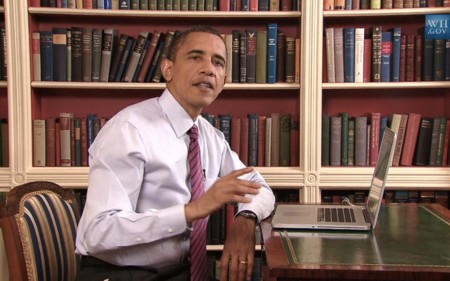 President Obama Demos with Apple Computer MacBook Pro
US President Barack Obama shows the new Healthcare.gov site, containing wealth of information such as tax credits, new law on coverage with pre-existing conditions, prevention tips, and more:
Obama uses an Apple MacBook Pro with the Seal of the President of the United States covering the Apple logo.
Besides Obama, other world leaders who use Macs include:
France Prime Minister, François Fillon
Russia President Dmitry Medvedev using Mac in Kremlin
Of course, this is not the first time President Obama poses with a Mac. On the campaign trail the former Illinois Senator famously endorses Mac with Pacman sticker.
[whitehouse via 9to5]

Related Posts