ObamaPacman.com Turns 1 Year Old! State of the OP
[Site news] State of the OP. First year anniversary site status summary, with pacman birthday cupcake!
Birthday Pacman Cupcake
Woot, a birthday Pacman cupcake to celebrate the 1 year anniversary of launching ObamaPacman.com. Blog on everything Apple: iPhone, iPad, iPod, Mac news, humor, Celebrity Mac Users, Microsoft Fails & More.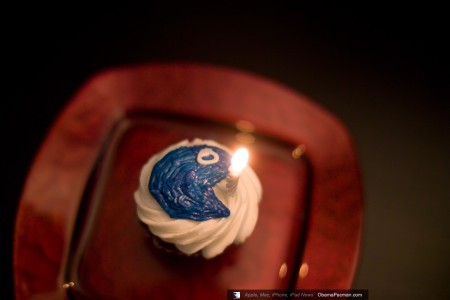 Obama Pacman, First Year Summary
In the past year, OP has covered the good, bad, hot, funny, artsy, sporty, magical, and imaginary news of Apple / Apple users, and plenty of fails of the other two members of the tech 3some: Microsoft fails in China and Google secrets. Here's a first year summary:
Over 400 stories
Stories with over 10,000 views: 8
Stories with 1,000 to 9,999 views: over 80
Top video: over 47,000 views in 3 weeks (iPhone 4 vs. 3Gs)
Top daily hits: over 9000 (for real, iPhone 4 keynote day)
OP is steadily gainly popularity. =) As you might know, there are over 100 million blogs in the world. But with the help of all our loyal readers, in 12 months, OP has not only reached the top 1% of blogs, OP is now getting close to the top top 0.1% of blogs (99.9% percentile) in terms of popularity.
In Blogosphere and Beyond
In its first year, OP is mentioned on great sites we frequent: Gizmodo, Macenstein, TUAW, Geekologie, Cult of Mac, 9to5mac, plus other sites such as macbytes, mac4ever, unplggd, weiphone, macsurfer, and many many more (sorry the stats only show a certain number of sites).
Gizmodo's Matt Buchanan even was in contact for possible syndication of the Gizmodo Pwned article, but never continued the conversation. Was it a joke? We might never found out, but Matt Buchanan was gracious enough to tweet this: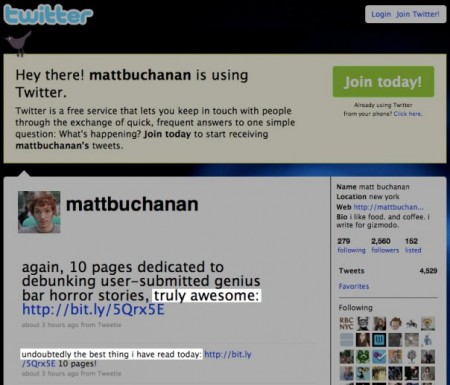 His word: "truly awesome" and "undoubtedly the best thing I have read today." Thanks! (And my bad about the temporary tease. Originally I thought there is no way he could like the story, so updated the story to be more link-bait-ty for awhile. Later the story was reverted back to close to the original story).
We were also featured on our hometown Boston's MIT HAL Lab: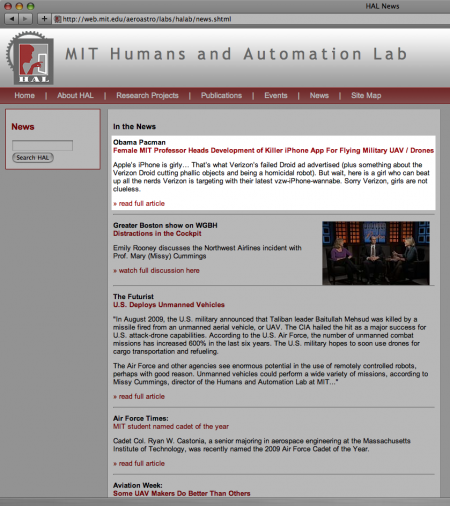 Thanks for all the mentions and the love, tweets, facebook likes, diggs, and stumbles!
Conclusion / Moving Forward
In conclusion, thanks for all our regular readers for making ObamaPacman.com a success, you're visiting it RIGHT! =)
We aim to have new stories every day, so we hope to see you back here often, and bring a friend. With your help, maybe next year OP can afford a real cake or maybe the more likely: 2 cupcakes. =p
Photo by OP Editor. Pacman cupcake by Danielle from the pastry shop. (If I decorated the cupcake it might look like a volcano cake explosion instead. But then I'll just photoshop it.)
Addendum
How You Can Help
5 easy ways you can help out, besides getting some stickers:
Subscribe / bookmark us
Share stories with friends. To make sharing easy, each story contains social sharing buttons before the comment section.
Comment! We love to hear what you have in mind
Take a few seconds to check out the advertisers, if any of the advertised products seem interesting (Command click to open it on a new tab or window)
Story tips and guest writers are welcome, just contact us
New Site Name?
Why this site name? Obama has a Mac, and his Mac has a Pacman on it. Originally OP is going to be a site on both Apple / Obama news, but there are just so many interesting Apple stories so we scrapped the non-Apple part.
PS. Thinking of changing site name. So if you have any ideas, please contact us.

Related Posts