Microsoft CEO Steve Ballmer: We Need to Copy iPad Faster
Microsoft CEO Steve Baloney Ballmer plans to fire up the Redmond photo copiers in response to the Apple's successful iPad tablet / slate.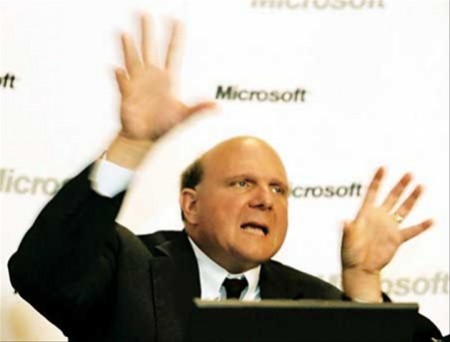 iPad Sales in One Quarter > Microsoft & Partner 2 Year Sales
At the annual Microsoft Financial Analyst Meeting in Redmond, the subject of tablets / slates was brought up repeatedly by concerned investors.
Apple has sold 3 Million iPad in 80 days, while Microsoft sold only 1.32 million Tablet PCs in 2008, with 1.25 million estimated for 2010. (Translation: Apple sold more tablets / slates in 1 calendar quarter than 2-years of sales from Microsoft and its various partners combined).
(Microsoft, even with Bill Gates' push, has failed over the past decade trying to get people to use Windows based tablet PCs.)
Microsoft Dreams of Controlling Apple iPad Sales
Responding to investor concerns of strong sales of Apple iPad in the tablet / slate market segment, Microsoft CEO Steve Baloney Ballmer says this fail quote:
"They've sold certainly more than I'd like them to sell."
So this seems that Microsoft's current CEO is still dreaming of being in control tablet market, which they never owned (and where there is no monopoly to give MS their monopoly, like what happened with PCs where the MS market was given by the Big Blue IBM monopoly).
Steve Ballmer: Fire up the Photocopiers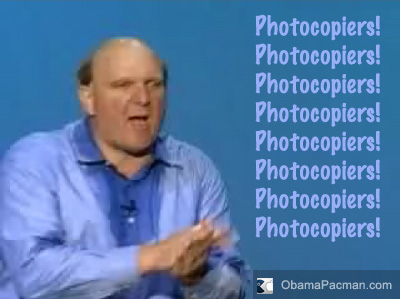 About potential tablets running Microsoft OS, Steve Ballmer said:
"We've got to make things happen with Windows 7 on slates, and we're in the process of doing that as we speak."
But iPad is a real product, where is the Microsoft version? Sounds like the Microsoft Dilbert Committee is working hard again. Not only that, Ballmer said it's "job one urgency" to create a Microsoft tablet that people want to buy.
But what about Zune, which still has only 1% of market share years after Microsoft promised an iPod killer? Do you think the iPad killer will meet the same fate as Windows Phone Kin?
Microsoft Dreams of Beating Android Tablets
At least, Steve Ballmer has confidence on Microsoft doing better against iPad tablet knockoff with Android:
"If we can't compete against whatever the weird collection of Android machines is going to look like, shame on us."
Now that's leadership!

Related Posts