Macworld iPhone 4 Magazine Cover Shoot Using iPhone 4 & iOS Apps
Photographer Peter Belanger recently did a MacWorld cover photo shoot of the newest iPhone 4 using another iPhone 4 as camera. The result looks great.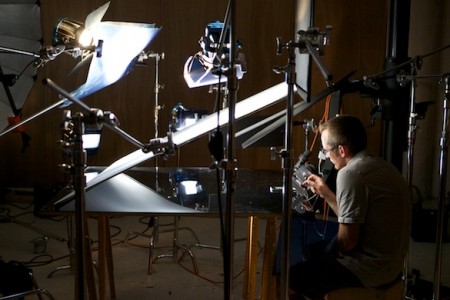 The challenge: Only use iPhone 4 and App Store Apps. No Mac, No Photoshop.
Current MacWorld cover photos are usually shot with a 60 MP Phase One P65+ camera, but Belanger is up for a challenge. The MacWorld editors wanted to see if it's possible to use only the iPhone 4's 5MP camera and App Store Apps to create the new smartphone magazine-cover-model photo.
Verdict? Yes we can, with iPhone 4: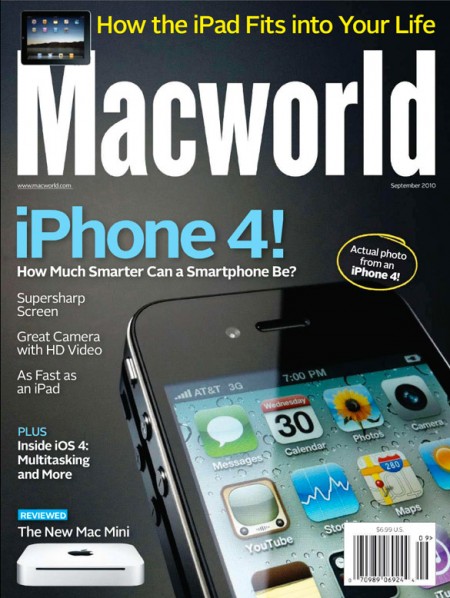 For the iPhone 4 cover photo, photographer Peter Belanger uses his normal sets of studio lights, flags, and stand. The main difference is he is using tungsten lights (probably the modeling lights) instead of strobes / flash. He's built his own iPhone 4 camera mount so he can get the perfect scale and crop for the precise magazine layout:

Peter was really impressed by iPhone's Retina display, which allows for no need for post-production photoshopping of a screenshot into the photo.
Cover Photographer Recommended iPhone Apps
Photographer Peter Belanger used two iPhone apps for post-production:
PhotoForge [itunes link] for color tint adjustment
Resize-Photo [itunes link] to enlarge the photo from 216 dpi to 290 dpi for print
A new App Peter would use is:
Camera+ [itunes link], which has separate exposure and focus controls (not to be confused with Camera Plus).
No photoshop required!
More iPhone Photos
Recently we had an article showing a fashion shoot using iPhone 3GS (with photoshop adjustments).
Here's OP's iPhone 4 shot with iPhone 3GS: no wussy tripod adapter or studio lights. OP Editor does it hand held, to ambient light, no photoshop (only used to add graphic, no color adjustment), using built in Apple Camera app. The OP photo was shot intentionally with selective focus to highlight the iPhone 4 death grip spot.
MacWorld iPhone 3GS Cover Shoot, Stop Motion Video
For those who want to imagine what's going on behind the scenes with the iPhone 4 cover photo shoot, here's a time lapse / stop motion video of Peter Belanger iPhone 3GS cover shot from last year:
[peter belanger via macworld]

Related Posts