Less Bars in More Places: iPhone 4 iOS 4.0.1
Apple iPhone 4.0.1 firmware update antenna / signal reporting changes.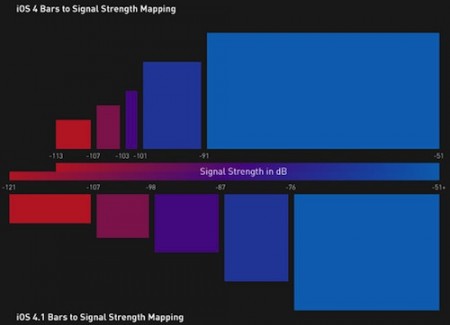 iPhone 4, iOS 4.0.1 update: Less Bars in More Places
In reality, your signal didn't change. Your iPhone 4 didn't lose signal due to 4.0.1 (it already has enough problems).
Apple mentioned earlier that iPhone 4's 3G bars, we're displaying it wrong, and promises a software fix for more accurate display of reception strength. The formerly 5 bar signal strength bar (-51 to -91 dB) is replaced 3, 4, and 5 bars. The lowest 1 bar signal display now covers -121 dB, from the previous -113 dB limit in iOS 4.0.
With the iOS 4.0.1 update, iPhone 4 will no longer see a drop of full signal, from 5 bars to 1 bar, if you are "holding it wrong." Instead, the worst drop in signal, a loss of around 24 dB would result in two bars disappear at the most.
"Anandtech's report claims that voice and data transmission on the iPhone 4 remained intact all the way down to -121 dBm, bolstering Apple's claims of increased overall sensitivity and reception with the iPhone 4's design." Macrumors described.
This is a better way to display the signal strength, it is a first step to the iPhone 4 antenna fix, but does not cover the possible fundamental flaw of the exterior antenna of the iPhone 4, or will it.
The lower signal bars, however, will gain some height. (AKA, taller bars in more places).
via macrumors

Related Posts