June 25 Apple Diagram: No Contact with iPhone 4 Metal band
Apple Knew About iPhone 4 Antenna metal band conductive issue at launch, as shown in the diagram provided to case / accessories makers.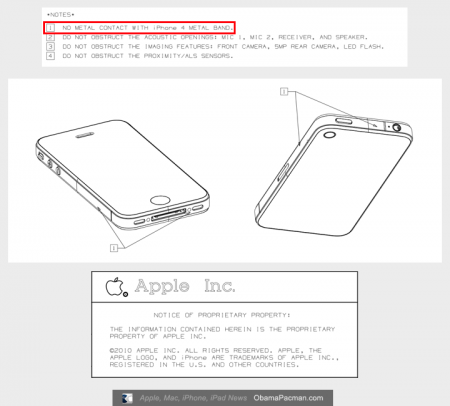 "No Metal Contact with iPhone 4 Metal Band." Apple's iPhone 4 CAD diagram for case maker, shows all the measurements of the iPhone 4, makes this the number [1] note.
The diagram, iPhone-4-dimensions.pdf revision 2 is dated June 25, 2010.
As Apple mentioned at AntennaGate press conference, they had considered the possibility of antenna interference BEFORE the iPhone 4 release. However, their test in their Antenna Labs shows that it's on par with the smartphone industry.
Download: Apple iPhone 4 Dimensions from Apple or our backup (262KB).
via 9to5

Related Posts