iPhone Easter Egg: Microsoft CEO Steve Ballmer "Baloney"
Baloney… Most people know the Microsoft CEO Steve Ballmer is full of it. Especially the Apple iPhone iOS 4 development team.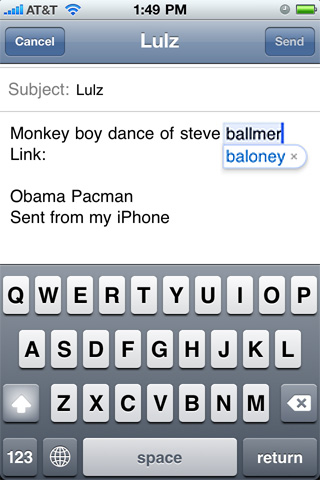 Ken Segall noticed if you typed in Steve Ballmer's last name in iPhone, the iOS 4 auto-correction suggests baloney instead. Works in lower case only. (This iPhone 4 easter egg worked for me once, then I can't reproduce it. Does not seem to work on iPhone 3GS running 3.1.3.)
If you already have the contact in your address work than this won't work. Also, it seems that in recent versions of iOS, non-dictionary words are added to the dictionary automatically after you tried to retype it (I think it's twice or three times). Thus it won't work if you already have Ballmer auto added.
Ballmer Baloney
The iPhone 4 Ballmer Baloney easter egg is not anything we don't know, because Microsoft CEO Steve Ballmer is usually full of it anyway.
A recent example is the Microsoft / HP Slate (HP's late) tablet computer vaporware announcement at CES 2010. The Microsoft / HP Slate tablet PC vaporware is announced with no price, no release date, no features list, and no demo of how it actually works. Of course, they hoped to claim their vaporware beat the Apple tablet. However, after iPad was demoed and released, HP hints that the HP Slate probably won't happen, not with Microsoft OS anyway. So… Steve Ballmer is full of it.
Speaker of the Microsoft CEO, we can't resist posting this funny Steve Ballmer Dance Video for your enjoyment:
Maybe the Microsoft CEO Steve Ballmer is dreaming of getting an Apple iPod?
So what about developers? Why can't Microsoft get any developers to stay on Windows Mobile?

Related Posts