iPhone 4 Antenna vs. Death Grip [Speed Test Video]
Fight! Speed test video: iPhone 4 antenna reception vs. death grip hand, no bumper case protection.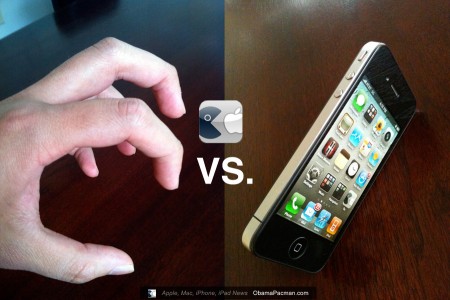 This video documents two antenna related problems with iPhone 4.
1. Holding the iPhone 4 in the hand interrupts / cripples mobile connection
2. The mysterious no / slow connection even with 4, 5 bars of "full" signal (seems to be phone dependent, new phone doesn't have the problem)
Most Boring Speed Test, Ever.
The video is NOT edited — to keep it all in 1 continuous shot. WARNING: the video is like watching paint dry. We dare you to watch this video and see if you can prevent yourself from falling asleep. =p
A summary is provided below the video:

(we got a decent microphone on order, maybe I'll do my impression of Mr. Plinkett voice then)
Look, No Hands
Test 1, 0:00 to 0:50
Failed with 5 bars of reception, spinning wheel of death
Test 2, 1:25
0.79 Mbps down, ping 2546 ms
Test 3, 1:56
0.66 Mbps down, ping 349 ms
(Not sure what was going on from 2:00 to 2:27, must be admiring the iPhone 4 Retina display or something)
Death Grip: "You're holding it wrong"
Some people call it the death grip, while others call it holding the phone normally. But as Apple has said in its iPad walk through video, the device should fit you, not the other way around.
Test 4, 2:27 to 2:55
0.21 Mbps down, ping 3204 ms
Test 5, 2:55 to 4:24
0.01 Mbps down, ping ??? ms
Failed with 4 bars of "reception"
Yup, the connectivity slows down dramatically when held without a case.
(4:24 to 4:50, death grip froze the speed test app, had to kill the App. Fumbling with touching a device via the eye of the video camera. )
Look, No Hands
Test 6 is again conducted with no hands. Speed back to "normal" when not holding the phone. Time 4:50 and on.
1.38 Mbps down, ping 451 ms
Conclusion
Verdict: in the war between iPhone 4 Antenna vs. Death Grip, the ubiquitous hand defeats the iPhone 4 antenna.
When the iPhone 4 is not held, it has decent speed (test 2, 3), but when it's held in the hand (Apple calls it "your'e holding it wrong"), but other people calls it holding it normally, the iPhone 4 antenna has problems (test 4, 5). Here's another test with custom app showing similar results.
In contrast, we have not experience significant problem holding previous iPhones in the same way. Is it the problem of the death grip, "you're holding it wrong," or perhaps it's a design problem? Consumer Reports thinks it's the latter.
Solution
Note the iPhone 4 antenna reception problem is minimized when you use a case, such as the bumper case. So we think, at the very least, the bumper case is something Apple should provide to all iPhone 4 users.
The speedtest app [itunes link] is free, so test it out yourself. Don't forget to turn off your WiFi (and turn WiFi back on when you are done).

Related Posts