Google CEO Eric Schmidt: Nexus One, Mission Accomplished [FAIL]
Epic Fail: Google CEO Eric Schmidt describes that the Google branded HTC Nexus One Android phone is such a success that there will be NO follow up phone.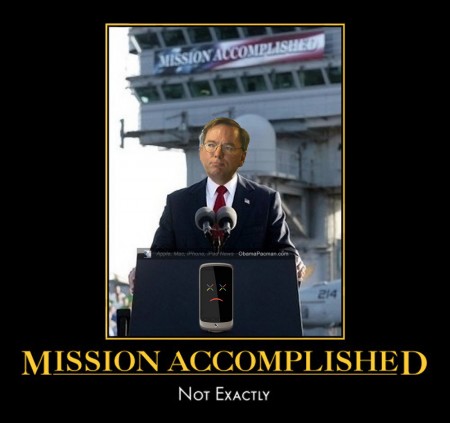 Google Phone Nexus One, Mission Accomplished
In an interview with the Telegraph, Google CEO Eric Schmidt confirms that they are copying from the Microsoft Windows Phone Kin playbook: "The idea a year and a half ago, was to do the Nexus One to try to move the phone platform hardware business forward. It clearly did. It was so successful, we didn't have to do a second one."
So, Google management obsoletes a 6 month old Google device (their engineer already stopped making engineering improvement, aka bug fixes, after just a few months). Translation: Google gives up on making consumer products after being unable to make a device that people want to pay for.
The Google phone is so successful, it suffered all kinds of problems:
problem with touchscreen accuracy
problem with display, not for pockets
problem with support, not possible to call Google for live support
problem with slow sales, despite it is available on the Google website, and released as an unlocked GSM phone on T-Mobile and AT&T in the U.S
And Google calls that success. So what would it take for them to call it a failure?
Google Can Drop Any Product at Any Time
Google CEO Eric Schmidt confirms that users should not depend on any products from the Mountain View company, because any Google product can be cancelled at any time. Schmidt said, "I called up the board and said: 'Ok, [Nexus One] worked. Congratulations – we're stopping'. We like that flexibility, we think that flexibility is characteristic of nimbleness at our scale.'"
Translation: Google is profit oriented, if a product doesn't make a ton of money, Google will axe a "successful" product (or use PR campaign to call a failed product a "success").
Google Will Drop Successful Products?
Let's assume for a minute that Nexus One is a success. By that rational, Google will axe other "successful" products such as Google search, paid for by Google Adsense?
Google makes almost all of its money from its Adware business, which by all means it's a success, but you don't see Google axing its Adware business anytime soon. So did Google just lie to its fan base of fandroids?
Conclusion: Nexus One Successful
Google is so open it didn't tell people that if they buy a "successful" Google device, they are getting screwed with it being discontinued.
All Eric Schmidt has to do is to make that statement on an aircraft carrier. Onto the fail boat you go, Google Nexus One. Go join the Microsoft Windows Phone Kin. Mission accomplished.
[via telegraph] Photoshop by OP Editor

Related Posts