Fring VoIP iPhone 4 App Brings Skype Video-Call Over 3G
Want to try 3G VoIP video-call, a feature that don't work very well over mobile? Now you can on iPhone 4.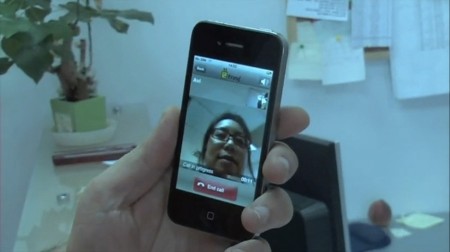 Only 2 weeks after Apple introduces iPhone 4 with Facetime, Cross-platform VoIP video-call is now available for the iPhone 4, brought to you by Fring [itunes link]. The free App is just updated to add 2-way video calls to its existing VoIP phone call capabilities.
Users can video-chat with other iPhone 4, Android phones (such as Nexus One, Droid, and Evo).
Fring FaceTime-esque Video Call Demo
Here's a demo by a Fring employee who is trying to do the movie trailer guy voice:
The video demo call is made over WiFi. Does it seem choppy to you?
Apple FaceTime only works on WiFi, not 3G, for a very good reason: 3g mobile connections don't make a good video-call experience, due to the inherent bandwidth and latency constraints. Reports are that although Fring video-calling can work over 3G, there is noticeable voice delay (along with lower quality video). Thus, video-calling over 3G might remain a novelty feature.
Who wants to make a sexi-time call in public anyway?
Fring [itunes link]

Related Posts