FAIL: Server Outages + Migration Plans
Q: What's up with the occasional blank pages in recent few days? A: Server problems.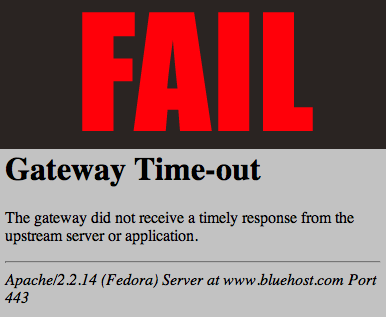 The ObamaPacman.com server is suffering from some downtime in the past few days, resulting in blank pages, "can't establish a connection to the server at www.obamapacman.com," and similar errors.
It's not hacked, but rather some server problem at our web host level. Usually the problems are resolved quickly but Bluehost, our web host support wrote on July 22:
"Dear Customer,
I certainly apologize for the inconvenience, there is currently an issue with the server itself. Our administrators are working to resolve the issue as soon as possible. This may be a server issue, or it may be an issue caused by another user hosted on the server. Because you are in a shared hosting environment, this means that any user on any server can potentially cause issues with the server itself. These issues can effect performance for other users on the same server. If this is indeed the cause, we work to find these users that are causing the problems and deactivate them. Our administrators work to resolve these issues as they are brought to our attention, please bear with us, we appreciate your patience."
They were still working on the problem yesterday, with no ETA on problem resolution.
Well, at least OP still has better uptime than Twitter, known for its Fail Whale. Perhaps we need to have a similar mascot, say, dancing ghosts?
Anyway, we are looking at options to migrate to a more powerful host soon that can handle our increasing traffic better.
P.S. The iPhone Apps menu category has been moved under "iPhone" menu, to make room for "Site News" menu.

Related Posts