Epic Fail: Microsoft Kills New Windows Mobile Kin Phone
A week after Apple released iPhone 4, the Redmond company just obsoletes Kin, the newest Windows Mobile phone that's only 6 weeks old.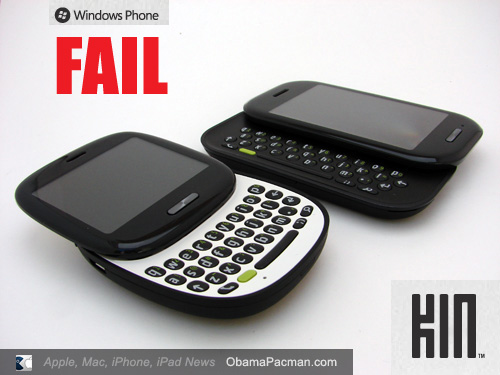 Kin: One or Two Target Customers
Seems that Microsoft's latest Windows Mobile phone failed even worst than the Zune in the competitive mobile phone market. It is about to be discontinued after only 6 weeks on Verizon.
The Kin One or Kin Two probably had only 1 or 2 total customers: these guys.
Just like other Windows phones, the Microsoft Kin is well known for its consistent experience of laggy interface and poorly implemented features. Microsoft and Verizon hoped that the Kin will capture the untapped market of phone users who are interested at paying smartphone prices for something that doesn't work very well, aka those who had been living under a rock.
Kin suffered very slow sales, some estimated at under 10,000 shipped (and even fewer sold). Verizon retail staff have commented that "even Palm's historically struggling Pre Plus and Pixi Plus have fared noticeably better."
In comparison, Apple sold 1.7 million iPhone 4 in 3 days.
Microsoft Windows Mobile Phone Fragmentation
Even with the cancellation of Kin, Microsoft still has to deal with the infighting and fragmentation of its 4 totally incompatible platforms:
Windows Mobile Shuffle
The Microsoft Kin phone group is expected to blend in with the Windows phone 7 group, which is trying to make a phone modeled after the 2007 Apple iPhone. Cupidtino immediately sees how it will work out via twitter: "Huge clusterf**k @Microsoft – looks like the WP7 team just picked up 800 new employees to make it suck even more."
Microsoft's inability to make an original product that people want, plus MS + Verizon's greed for charging smartphone prices for the Microsoft Windows dumb phone both contributed to the failure of Kin.
The Kin cancellation could mean that people should not buy any Microsoft product because they can be discontinued only weeks after its introduction.

Related Posts