Download: Apple iPhone 4 AntennaGate Press Conference Video, 720P HD
The SD and HD version of the Apple Steve Jobs iPhone 4 AntennaGate press conference video download.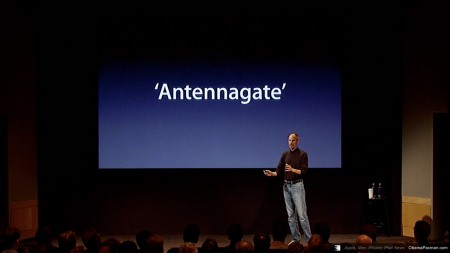 The Apple events starts not with Apple CEO Steve Jobs, but rather the iPhone 4 Antenna song.
Highlights
"We made it easy to find the weak spot"
"We haven't figured out a way around the laws of physics… yet"
"There is no AntennaGate. There is challenge for the entire smartphone industry to be able to improve its antenna performance"
And of course, the smartphone antenna performance comparison (and the recently published Nokia antenna performance). You can watch the video stream, or download it below.
iPhone 4 Press Conference Video Download: SD
SD download, 480×270 pixels, 117 MB, 3 pieces
iPhone 4 Press Conference Video Download: HD 720P
HD 720P Download, 543 MB, 12 pieces
Part 1
Part 2
Part 3
Part 4
Part 5
Part 6
Part 7
Part 8
Part 9
Part 10
Part 11
Part 12
How to Watch
On Mac OS X, download UnRARX [link], expand it, and use to extract the RAR files. Once all RAR files are downloaded, double click on a RAR file or drag one of them onto UNRARX.
via Apple

Related Posts