Consumer Reports Withdraws iPhone 4 Recommendation [video]
Consumer Reports changes Apple iPhone 4 recommendation after they verified the antenna signal strength problem. They also offers an affordable solution.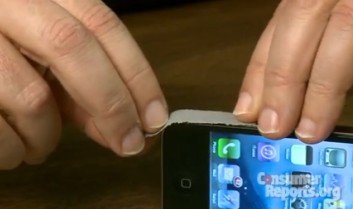 Problem, iPhone 4 Antenna Reception
The problem is the external antenna of the iPhone 4, of which Many people reported problems when holding the spot on the phone's lower left side. Not only the signal bars drop, phone call reception and internet connectivity speed suffers as well.
Consumer Reports tested three iPhone 4 in their radio frequency isolation chamber. Report: not good, they were able to reproduce the iPhone 4 antenna problem. In comparison, none one the other phones tested, such as the iPhone 3Gs, has the signal-loss problem of the iPhone 4.
CR calls it a design flaw, and reports that until Apple solves this problem, they are dropping their recommendation for iPhone 4.
Note that originally Consumer Reports cannot reproduce the iPhone 4 antenna problem by using their standard test procedures (likely tests similar to those Apple performed on the iPhone). But the problem is very real when you have humans holding the phone.
iPhone 4 Antenna Reception Solution
Consumer Reports that they have an affordable solution for iPhone 4 with antenna reception issues: "Cover the antenna gap with a piece of duct tape or another thick, non-conductive material. It may not be pretty, but it works."
As another option, Consumer Reports expects that using a case with iPhone 4 could also minimize the problem.
Lab tests [consumerreports]

Related Posts