Beware of iPhone iOS 4 Unlock Scams: unlock4ios.com
Sites such as unlock4ios.com promises "3G, 3GS & 4 iOS iTunes iPhone Unlocking," and "100's of free iPhone Applications" including Super Monkey Ball. Legit deal or scam?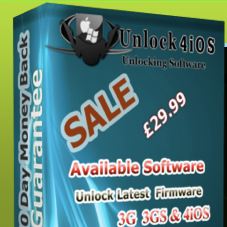 Seriously? "Software Unlock 4 iOS" FAIL Scam
Unfortunately, unlock4ios is just the latest variation of a scam that has been around since the original iPhone. Let's look at the main page of the site: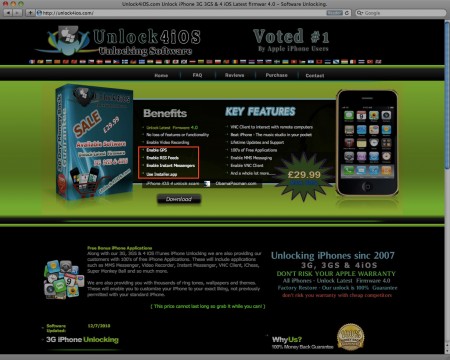 The unlock4ios.com software unlock provides features such as:
"enable GPS"
"enable RSS Feeds"
"enable Instant Messengers"
"installer app"
In reality, GPS has never disabled (except for maybe one fairly small country). RSS is never disabled. IM clients has been available in the Apple App Store for years. Installer App? Are we back in 2007 / 2008?
Perhaps "enable touchscreen" would be available in the next version of the iPhone iOS 4 software unlock?
Contact an iPhone Unlock Scammer, at Unlock4iOS.com
There are plenty more things wrong with their home page, but let's move on to their contact page: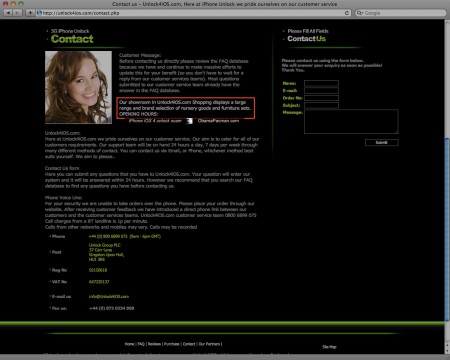 Looks like they will answer your questions about nurseryGoods and furnitureSets as soon as possible.
Now that's great iPhone 4 unlocking customer service! (Sarcasm)
Real Deal: Apple iPhone 4, iPhone 3Gs 3.1.3 Unlock
Unlike the fake site, here's the iPhone iOS 4 unlock reality, at this point in time:
iPhone 4 unlock: MuscleNerd is getting close, but currently there is no iPhone 4 unlock besides Apple's unlock available only in select countries. GeoHot did teased about an iPhone 4 unlock but isn't planning on releasing it anytime. (Don't bug them about a release date!)
iPhone 3Gs unlock: there is no unlock for those on new bootrom. There is no unlock for those with 3.1.3 or later, not jailbroken, and don't have 3.1.2 ECID SHSH saved (plus number of exceptions that may or may not apply.)
Of course, we're not saying things won't change in the future. It's just that at this time, it's impossible for some of the devices they claimed they can unlock.
Conclusion
For those with some knowledge of iPhone, reading scammer site such as this is like reading The Onion. Unfortunately, this is just one example of people who steal the hard work of real jailbreakers.
The real iPhone jailbreakers such as those mentioned in the previous section or the unofficial dev team has always graciously release their iPhone unlock / jailbreak tools, without charge, to the Apple community.
So, don't pay for a software that is released for free. Who knows what scam sites such as unlock4ios.com will do to your credit card. Perhaps this. Anyway, for the real iPhone 4 unlock / jailbreak news that won't cost you your credit card, bookmark, subscribe, and check back here to ObamaPacman.com. We'll let you know as soon as it's available.
Check out real, free iOS jailbreak / unlock guides.

Related Posts